The Declaration of Independence: A Living Document
On July 2nd, the Second Continental Congress voted to accept a resolution put forth by Richard Henry Lee. The document—which was derived from Thomas Jefferson's working draft of the Virginia Constitution and the Virginia Declaration of Rights—would come to be known as the Declaration of Independence. Signatures would be completed on August 2, 1776. However, July 4, 1776 will forever be observed as Independence Day.
---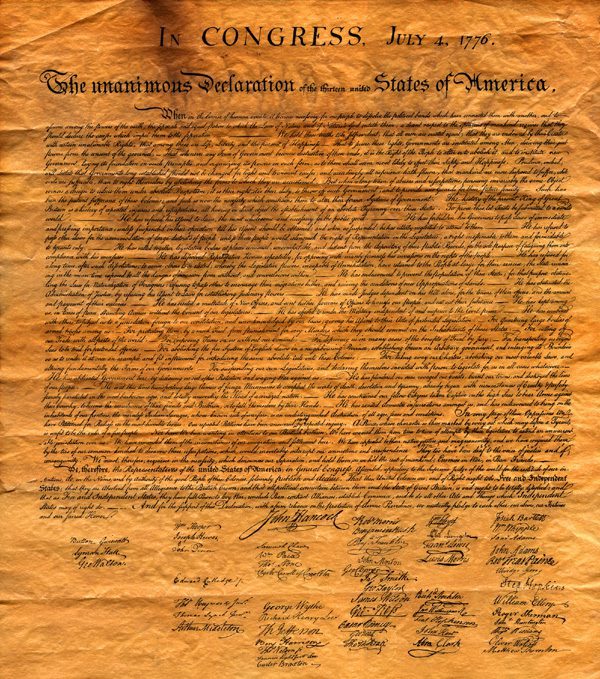 The Virginia Declaration of Rights
The Virginia Declaration of Rights is an important document of the founding era written by George Mason.  The document, which had been adopted by the Virginia Constitutional Convention in June of 1776, was a significant influence upon Thomas Jefferson's sentiments and wording in the Declaration of Independence.
Original Draft of the Declaration of Independence (Jefferson's Draft)
The Second Continental Congress formed a committee of five men from among the delegates to compose a Declaration of Independence.  The committee consisted of Thomas Jefferson, John Adams, Benjamin Franklin, Robert Livingston, and Roger Sherman.  Jefferson was selected to write the draft document.  The draft, with corrections by Franklin and Adams, was submitted to Congress for debate on June 28, 1776.  What is notable in the original draft is that Jefferson tackled the "Abominable Crime" of slavery which the British brought to America.  An entire paragraph addressing "this cruel war against human nature itself" would be struck from the final copy of the Declaration.