Mary Izard Middleton
Mary Izard, known to her family as Polly, was described as one of the most beautiful and accomplished young women of her day. The daughter of Elizabeth Gibbs Izard and Colonel Walter Izard, an officer in the Militia and owner of Cedar Grove Plantation, was born July 31, 1747. Unfortunately, twelve-year-old Mary and her brother John lost their father, their last remaining parent, thus becoming orphans at what could be considered a young age. Her brother John inherited his Father's estate, which included two other plantations, Hobonny and Old Combabee. It's not known whether they remained at Cedar Grove Plantation or were cared for by relatives such as her sister Anne Blake. It is interesting to note that Cedar Grove Plantation was across the Ashley River from Middleton Place, which in a very few years would become her home.
At the young age of sixteen, she married Arthur Middleton, age 22, on August 19, 1764. Mary probably thought, as was typical of the period, that as his wife, she would manage the household, become a mother and travel with her husband. She most likely brought a large dowry to the marriage, which was commonplace in that day. Although, it didn't appear that she exercised any economic decisions.
On May 24, 1768, the young couple embarked on a three-year grand tour of Europe. Their first child, Henry, was born in London much to the delight of his grandfather, also a Henry and the second President of the Continental Congress. While traveling through England and the Continent, they purchased goods for their home, such as fine silver, and even commissioned the renowned painter, Benjamin West, to paint the young family with their first child. Some of the silver and this lovely painting may be seen at The Middleton Place House Museum.
They returned home, and for the next five years while Mary's husband became increasingly involved in politics, she gave birth to two girls. The family would eventually increase to include eight children total. Their children were: Henry, 1770; Maria Henrietta, 1772; Eliza Caroline, 1774; Emma Philadelphia, 1776; Anna Louisa, 1778; Isabella Johannes, 1780; Septima Sexta, 1783; John Izard, 1785; and an unnamed son, 1787.
In 1776, Arthur was elected to the Continental Congress, following in his father's footsteps. Mary and the children accompanied him to Philadelphia. Her intellectual curiosity and graciousness won her many admirers. Dr. James Clitherall recorded in his diary, "I have experienced much happiness in the pleasure of Mrs. Middleton's conversation, a lady who is one of the first of her sex for sense, politeness and every female accomplishment." Another admirer, Francis Hopkinson, also a signer of the Declaration of Independence, described Mary, as did many others, as a most gracious hostess, and wrote to Arthur that he had passed many agreeable hours with "my valued friend your good lady."
Little did Mary know what fate had in store for her when her husband signed that magnificent document, the Declaration of Independence, pledging his life, fortune and sacred honor. In the ensuing years of the Revolutionary War, her husband was arrested, sent to St. Augustine and labeled a rebel. Mary was forced to flee the plantation in 1779 to the more desolate Hampton Plantation. Meanwhile, the British marauders began their destruction of the plantation with most of the contents of house and gardens mutilated or destroyed. With her indomitable spirit, Mary managed to endure sickness, give birth to her sixth child, manage the return of the confiscated property, move back to her home, and await the hopeful return of her husband.
In 1782, Arthur was finally able to return home to regain his life and love for family, friends, and home. Unfortunately, Mary's life was to change again as her husband died suddenly at the age of 44, and she, age 38, was left with eight children ranging in age from sixteen months to sixteen years, and pregnant with her ninth. Sadly, the youngest child died ten days later. Her brother John and his wife had also died. Having no heirs, John's estate was willed to Mary. Arthur died intestate, so Mary was granted one-third of his estate by dowry rights. Thus as a relatively young widow, she was in the position of overseeing Middleton Place as well as her brother's three plantations, and even acquired the nearby Batavia Plantation, placed in trust for her daughter Ann. As the matriarch and mother, she was enormously protective of her family and made sure each child was left an inheritance of land or plantations. One can't help but wonder was it perhaps a way to keep the children close to her.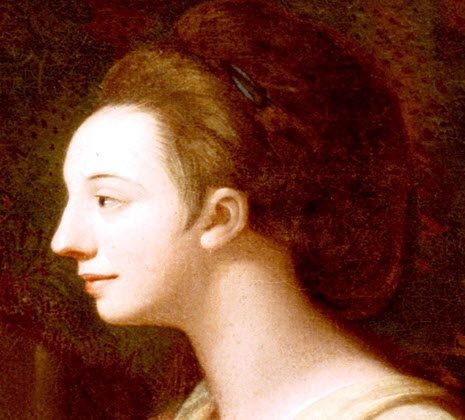 In July of 1814, Mary died, twenty-seven years after the death of her husband. Her obituary described her as being an excellent woman who was endeared to society by her virtues and her good works. The Charleston Courier reported on July 12, "died at her residence in Mazyckborough Mrs Mary Middleton relict of that distinguished patriot the late Honorable Arthur Middleton, Esq: this excellent woman had descended to the tomb endeared to Society by her virtues and her good works." She was survived by five of her children and thirty-nine grandchildren. She was laid to rest at Middleton Place, presumed to be interned in the same tomb as her husband, Arthur.
Middleton Place is now a National Historic Landmark featuring a House Museum and lovely gardens. In spite of the fact that the house has been ravaged by wars, earthquakes, and hurricanes, it has withstood, and welcomes visitors with its history and beauty.
Hope Middleton Wood
Descendant
With research assistance and images of Mary Izard provided by Dottie Stone, Ph.D. Research Historian, Middleton Place Foundation
---
Sources
James Clitherall Diary, #159-z, Southern Historical Collection, The Wilson Library, University of North Carolina at Chapel Hill, https://finding-aids.lib.unc.edu/00159/ Accessed March 9, 2021. South Carolina Historical Society Magazine, "Diary of Dr. James Clitherall".
Middleton Place Foundation. https://www.middletonplace.org/news-and-events/category/foundation/ accessed March 11, 2021
Barthelmas, Della Gray. The Signers of the Declaration of Independence: A Biographical and Genealogical Reference (Jefferson, North Carolina, and London: McFarland & Company, Inc., 1997)
Cause of Liberty. https://causeofliberty.blogspot.com/2011/12/mary-izard-middleton.html accessed March 11, 2021
Ferris, Robert G. Signers of the Declaration of Independence, National Park Service. https://www.nps.gov/parkhistory/online_books/declaration/bio31.htm Accessed March 11, 2021.
Wheeler, Mary Bray and Genon Hickerson Neblett. Hidden Glory: The Life and Times of
Hampton Plantation (Rutledge Hill Press, 1983).
Wood, Hope Middleton. "Arthur Middleton." https://www.dsdi1776.com/arthur-middleton/ 2010, accessed July 19, 2021
Portrait in oval; Courtesy of Middleton Place Foundation.
Later Portrait of Mary Izard Middleton; Courtesy of Middleton Place. Also shown at; https://www.findagrave.com/memorial/55834098/mary-middleton
Middleton family portrait; https://www.findagrave.com/memorial/55834098/mary-
\middleton
Middleton Place; https://househistree.com/houses/middleton-place
Gardens at Middleton Place; https://househistree.com/houses/middleton-place
Henry Middleton's original house; https://househistree.com/houses/middleton-place
The Middleton Oak; Courtesy of Nicholas Good, CC, Flicker at https://househistree.com/houses/middleton-place
Back to Signer Arthur Middleton