Title:
Portraits of signers of the Declaration of Independence
Call Number:
MSS 12130
Citation:
Robert Edge Pine. Copies of Pine's Portraits of Signers of the Declaration of Independence,1820, Accession #12130, Albert and Shirley Small Special Collections Library, University of Virginia, Charlottesville, Va.
This photo has been identified as being free of known restrictions under copyright law, including all related and neighboring rights.
Click photos to enlarge
---
Spouse Information:

Deborah Reed
(1708 - 1774)
---
Children:
William (adopted), Sally (daughter), a Son (who died at 4)
(1706 - 1790)
Benjamin Franklin
---
Benjamin Franklin was perhaps the greatest Renaissance man of the eighteenth century. A precocious reader from earliest childhood, Franklin was an accomplished writer, a creative media communicator, a satirist with a keen sense of humor, a successful printer and competitive businessman, an enterprising publisher, a widely read and frequently quoted philosopher, a developer of civic institutions, a scientist whose electrical experiments made him world famous, an inventor of practical instruments and objects, an early advocate of cooperation among the American colonies, a prominent and sought after representative of the enlightenment, a resident and staunch defender of the British Empire who became an ardent American patriot, and a shrewd negotiator and conciliator. At the age of 70 he went to France and became the greatest geriatric diplomat in the history of the world.
Benjamin Franklin was born in a small house on Milk Street in Boston, Massachusetts on January 6, 1706, the son of Josiah Franklin and Abiah Folger. Benjamin's great-great-grandfather was Thomas Franklin who was born in 1540 in Ecton, England, and worked as a blacksmith. Franklin family members worked in the smith trade for nearly 300 years. Franklin's father, Josiah, was born at Ecton in 1657 and served an apprenticeship under his brother John, a dryer, in Banbury, Oxfordshire. Josiah married his first wife, Ann Child, in 1677 and the family came to America in 1682. After Ann died, Josiah married Abiah Folger in 1689. In all Josiah fathered 17 children, an extraordinarily large family even in those days.
Benjamin's mother, Abiah Folger, was the great-granddaughter of John Folger who came to America from Norwich in 1635 and settled in Watertown. His son, Peter Folger, was one of the early settlers of Nantucket, and worked for some years in Martha's Vineyard as a surveyor and a teacher, becoming fluent in speaking the Indian language. He was invited to come to Nantucket as an interpreter and continued his work there as a surveyor. He was put in charge of the first mill established in Nantucket.
It is interesting to speculate how Benjamin Franklin's childhood may have helped shape his later life. He recalled later that he could never remember a time when he could not read, and he was reading the Bible when he was five years of age. As a young child in a very large family, with many older and more powerful siblings, he learned negotiating skills to get along. In a revealing passage in his autobiography he explained, "I developed the Habit of expressing myself in Terms of modest Diffidence, never using when I advanced anything Certainly, undoubtedly or any others that give the air of Positiveness to an opinion."
At the age of eight his father enrolled him in the Boston Grammar School, thinking his interest in reading would prepare him well for the ministry. But after one year and concerned about the future cost of education, Josiah switched Benjamin to an ordinary school teaching reading, writing and arithmetic. Benjamin showed little interest in academic pursuits. After just two years of the only schooling he ever had, he began training with his father in the soap and candle making business. Cutting wicks and smelling tallow were not Benjamin's cup of tea either. Both his older brother and his father, recognizing Benjamin's unusual skill in reading, writing, and spelling, apprenticed him in printing at the age of 11 to his older brother James. Benjamin continued his voracious reading habits, borrowing what books he could, and often staying up late at night reading them. He edited famous authors like Addison and Steele, reorganizing their writings, to become a better writer himself.
In 1719, his brother James established his own paper, The New England Courant. Benjamin chafed at not being permitted by his authoritative older brother to submit writing of his own, so at 16 he created a delightful character known as "Silence Dogood." Establishing her as the widowed wife of a clergyman, he wrote opinionated letters from her in secret and at night slipped them under the Courant's door where James would be sure to find them the next day. James was enchanted by the widow's essays, and printed them with relish since they attracted considerable interest and comment from his readers. Silence Dogood lampooned subjects from funeral eulogies, to Harvard, whose students she said would emerge from there "as great blockheads as ever, only more proud and self-conceited." Sometimes Cotton Mather, the son of Harvard's President, felt called upon to rebut the widow's views on schooling and religion in the pages of the Courant.
When James found out who the real author was, he was not amused. He and Benjamin began to quarrel, with Franklin demanding more indulgences and prerogatives than the typical apprentice of the period was allowed. After a period the relationship became intolerable, and one day in 1722, at the age of 16, Franklin simply ran away. He took passage on a ship unannounced and set sail for New York with little money and few belongings. He stopped briefly in New York seeking employment, but when this failed, he continued to Philadelphia to follow up on a lead given him by a New York printer.
Arriving in Philadelphia in 1723, where he was to spend most of the next 40 years, Franklin's ambition, printing expertise, business acumen and social skills blossomed. He soon found employment in a printing shop and boarded at the home of John and Sarah Read on Market Street. The Reads lived there with their daughter, Deborah, who would later become Benjamin's wife. Franklin was introduced to the Pennsylvania governor, William Keith, who admired his workmanship and urged him to form his own printing shop. He encouraged Franklin to go to London and acquire the equipment he needed, and offered to assist Franklin with letters of credit.
When Franklin arrived in London, however, the letters were nowhere to be found. With no resources of his own, Franklin found employment with a large printing establishment, made many new friends, and enjoyed the social and entertainment opportunities offered by the cosmopolitan city. He attended the theater, dances, scientific lectures, and sermons. He was determined, however, to return home. He saved his money and after two years bought passage home, arriving back in 1726.
Eager to establish himself in the printing business Franklin found a partner whose father was willing to set them up. The business was successful and even won government contracts printing money. Finding that his partner was holding him back, Franklin bought him out. Franklin immersed himself in his work, earned a considerable reputation, and in 1729 purchased The Pennsylvania Gazette, a publication that still exists to this day. He greatly expanded the concept and scope of the Gazette, printing international stories, accepting advertising, publishing many stories by interested writers, illustrating news stories with maps, and doing much of the writing himself, often working late into the night. And he wrote with humor, of course, with moralistic stories written by the likes of Alice Addertongue, a gossip, and Anthony Afterwit, who dispensed advice on love and marriage.
In 1730, Franklin married Deborah Read Rogers and soon thereafter they adopted Benjamin's illegitimate son, William. The marriage was a common-law marriage since there was some uncertainty about the legal status of Debbie's first husband who had abandoned her. The couple would later have a daughter called Sally, and a son who died at four, a devastating blow to Franklin. Franklin's marriage proved to be more business-like than romantic. During Franklin's extensive travels and 18 years of residence in London, Deborah managed his affairs in Philadelphia and is believed never to have left that city. Terrified of ocean voyages she refused Franklin's invitations to come to London. She died in Philadelphia just before he returned home in 1774.
In 1732, Franklin published the first issue of an annual called Poor Richard's Almanack, and continued its publication for 26 years. Designed to be both useful and informative, it also established Franklin as a leading philosopher of the day. It contained practical information like calendar days and the tides; astrological information; included many still quoted proverbs like "the sleeping fox catches no poultry;" and general American folk wisdom dealing with virtue and advice about how to live your life. Humor abounded throughout, like "A countryman between two lawyers is like a fish between two cats."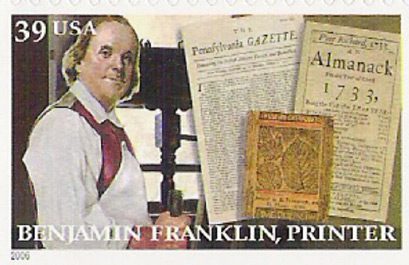 As his business expanded Franklin formed a group of similarly minded tradesmen called the Junto, which evolved into the American Philosophical Society, a Society dedicated to the betterment of mankind. Its membership over the years included such luminaries as John Adams, Thomas Jefferson (who served as President of the Society for several years), and more recently Colin Powell and Alan Greenspan. Fifteen members of the Society would sign the Declaration of Independence in 1776. Beginning in 1731, the Junto established the first public library in America, the Union Fire (fighting) Company, the Pennsylvania Hospital, the Academy of Philadelphia which became the University of Pennsylvania, and Americas first fire insurance company.
In 1736, Franklin was appointed clerk of the Pennsylvania Assembly, and he was appointed postmaster general of Philadelphia in 1737. In this capacity he traveled to many of the other colonies, enlarging his circle of acquaintances. He set up the city's first city delivery system and the first dead-letter office. Later, in 1753, he was named deputy postmaster general for all the colonies. By the mid-1740s Franklin was considered the leading citizen of Philadelphia and the Pennsylvania Colony.
In 1748, at the age of 42, Franklin retired from his successful printing business and civic creations, in order to expand his world in other directions.
He began studies of electricity which were to gain him worldwide fame and election to Britain's Royal Society and the French Academy of Science. His writings on electricity and other scientific subjects were translated into French, German, and Italian. He was awarded honorary degrees from Yale, Harvard, William & Mary, Oxford, and St. Andrews in Scotland, to which he commented, "Thus without studying in any College I came to partake of their Honors." Owing to his celebrity he met with many members of the enlightenment like Adam Smith, James Watt, and Erasmus Darwin. He was a house guest of David Hume on a trip to Scotland, and enjoyed memorable meetings with Voltaire at the French Academy of Science in Paris. Franklin conducted experiments on evaporation with John Hadley at Cambridge. Interesting people sought his counsel. Joseph Priestly, the discoverer of oxygen and the inventor of the chemical battery, sought him out for his views, and a freed galley slave, Pierre Gargaz, approached him with proposals for a united nations and the preposterous idea of building canals at Suez and Panama to facilitate ocean travel.
His scientific curiosity and observations led him to invent the lightning rod, the Franklin stove for more efficient heating, and bifocals. Over the years his study, curiosity and observation led him to chart the dimensions of the Gulf Stream, to demonstrate that acid soil could be improved by adding lime, that fresh air was important for good health (which he debated with John Adams one famous night when they slept in the same room), to recommend daylight saving time to conserve candle power, to advocate the benefits of citrus fruits (Vitamin C) for seamen, and to invent the Glass Armonica, so that music could be played using glass saucers of different sizes. Mozart and Beethoven both composed music for the Armonica. The famous English statesman William Pitt maintained that Franklin ranked with Sir Isaac Newton as a scientist and inventor.
In 1754, as the French and Indian wars broke out, representatives of the colonies met in Albany and Franklin presented his Albany proposal for a unified government for defense. While the colonies were not ready to proceed at this time, Franklin's ideas were to re-emerge 22 years later in 1776, when constitutional deliberations began for the Articles of Confederation.
In 1757, the Pennsylvania legislature sent Franklin to London to contest the right of the state's proprietors (descendants of William Penn) to remain tax free when funds were needed for the colony's defense. In 1760 he succeeded in getting parliamentary agreement to tax the proprietors.
His son William accompanied him to London and eventually was appointed the Royal Governor of New Jersey. When the Revolutionary War broke out, Franklin and William found themselves on opposite sides. William, a confirmed loyalist, was captured and imprisoned for a time, and left for London where he spent the rest of his life. Franklin severed his relationship with William and they never reconciled. When Franklin went to Paris in 1776, he took along Templeton, William's illegitimate son, and Benjamin Bache, his grandson.
Returning to London in 1760, after a short trip home, Franklin represented several states as their agent in London. He stayed on for the next 15 years in this capacity, enjoying his celebrity, meeting many famous people, making many new friends, and enjoying all that London had to offer. Soon after the British drove France out of North America in the Seven Years War, Parliament began to consider ways to tax the colonies to help pay for the expense they had incurred in fighting the war. One of the earliest tax proposals was the Stamp Act, seeking to impose a tax on paper documents. In 1766, Franklin was invited to appear before the House of Commons to answer 174 questions concerning "taxation without representation," and a vigorous debate ensued. Franklin maintained that Americans would never accept or enforce the Stamp Act. Members left the meeting impressed by Franklin's grasp of the tax situation. Soon thereafter the Stamp Act was repealed.
But other tax proposals quickly ensued. Franklin underestimated the growing anger and resentment of the colonists over the next few years and strove to reconcile British and colonial views, firm in his belief that the greatest body politic in the world was the British Empire. In this capacity he met with Frederick North, the Earl of Guildford, Lord Clare, the former head of the Board of Trade, the nephews of Sir Robert Walpole, and the pro-American Lord Dartmouth. He wrote to revolutionaries in New England trying to cool their passions so that things could be worked out.
In 1773, Franklin acquired copies of secret letters from Royal Governor Hutchinson of Massachusetts, showing that the Governor favored abridgment of American liberties if necessary to prevent rebellious actions. In an unwise move Franklin sent copies of these letters to several of his friends in Massachusetts, pledging them to keep the letters secret. As might be expected the letters were soon published. When Parliament learned that Franklin was responsible for the leaking, they went absolutely bananas. Franklin was ordered to appear at the Cockpit, near Whitehall, where solicitor general Wedderer proceeded to dress down and insult Franklin for a full hour, berating him for his role in the release of the letters and calling him a liar and a thief. Franklin remained motionless and expressionless during the whole proceeding. He left the meeting determined to leave the country he loved and admired so much and return to America.
Before leaving for Philadelphia, Franklin met several times with Lord Richard Howe to discuss reconciliation possibilities, but there was no meeting of the minds. The next year, in 1776, Lord Howe would be appointed to lead the British invasion of America. Franklin, accompanied by Adams and Rutledge, would meet him again in 1776 at the Billopp House on Staten Island in a last fruitless attempt at reconciliation.
Benjamin Franklin returned to Philadelphia in 1775, two weeks after the outbreak of hostilities at Lexington and Concord. The very next day he was chosen as a delegate to the Second Continental Congress.
As 1776 dawned, American public opinion began to move toward independence. In January Thomas Paine released his famous Common-Sense pamphlet calling for American independence, after showing it to Franklin and several others. After the debate over Richard Henry Lee's resolution for independence on June 7, a drafting committee for a Declaration of Independence was formed consisting of Thomas Jefferson, John Adams, Benjamin Franklin, Roger Sherman, and Robert Livingston. The Committee met several times and Jefferson began drafting the document. On June 21, Jefferson asked for the input of Adams and Franklin on an early draft.
The Congress further edited the document and it was approved on July 4, 1776. Printed the next day in a broadside, the Declaration was widely distributed, read in public, copied, and printed in newspapers. A parchment copy was prepared after several weeks and Franklin and the other delegates began signing it on August 2.
Signing the Declaration of Independence
Franklin was appointed a commissioner to France to negotiate a French military alliance. Upon landing in Brittany in December 1776, he found himself lionized all the way to Paris as people turned out to see Benjamin Franklin, the most famous American in the world. The French reaction to Franklin's arrival in Paris was comparable to the American reaction to the Beatles' arrival in America some 200 years later. Franklin-mania reigned, with the image of Franklin appearing on dishes, vases, snuff boxes and in chamber pots. Eager to atone for its loss of empire in North America, and to weaken its ancient enemy Great Britain, France had already begun clandestine shipping of military equipment and supplies to America. When British ambassador Stormont protested these activities, the French ministers-maintained ignorance of what was happening.
Franklin soon gained an audience with the French minister Charles Gravier, comte de Vergennes, and they bonded almost immediately. Franklin was cool and businesslike, asking only for a treaty for trade and commerce. Vergennes was astonished at the modesty of the American proposals, and Franklin's lack of zeal in pushing them. With spies, supplicants and admirers suffocating Franklin in his quarters in central Paris, Vergennes arranged for plush accommodations near Versailles in Passy, at the estate of Chaumont, a wealthy confidant of the French minister, who would become the primary French financier of the revolution.
As Washington's military disasters in New York and New Jersey became known in Paris, Franklin artfully spun these defeats as American advantages. He expressed full confidence in General Washington and upheld the governing prowess of the Continental Congress. In 1777, the military situation worsened as Howe advanced on Philadelphia and Burgoyne began his march south toward Albany. But Franklin continued to downplay the seriousness of the military setbacks and America's need for help, exhibiting a sunny and optimistic manner. In view of America's uncertain military prospects, Vergennes was in no hurry to take a formal stand on French aid, and Franklin did not press him. The prospects for a treaty languished, and the American Congress began to grouse over Franklin's lack of progress.
When the news of the American victory at Saratoga reached Paris in December, Vergennes sensed that America might have a real chance against the British. He quickly changed direction and offered treaty proposals. Great Britain, realizing that prospects for a French alliance were greatly increased, also came forward with a flurry of accommodating treaty proposals, but none granting American independence. Franklin maintained his loyalty to America's new friend, keeping Vergennes fully informed of the British treaty maneuvers. Finally, two French treaties were made and signed, one for military assistance, and the other for trade and commerce. As the treaties left French shores for approval by the Continental Congress, Britain rushed forward new conciliatory proposals for the Congress as well. These arrived in Philadelphia eight days before the French ones. Having heard nothing of the French treaties nor having received any recent message from Franklin, Congress was perplexed by Britain's sudden generous concessions. However, in a few days, the delegates were ecstatic when the French treaties arrived. They were quickly approved.
Before this happened, Congress had grown impatient with the apparent lack of progress made by Franklin, and appointed John Adams as a new commissioner to get things going. Upon his arrival in France Adams was astonished to learn that the treaty he was empowered to come and make had already been made, that it was on its way to America, and that Franklin had become the toast of France.
Adams was grateful to Franklin for introducing him to Vergennes, Louis XVI, other important officials, and the French way of life. But the tension among the (now) five commissioners was palpable, with squabbles about being left out of things, jealousy over Franklin's access and success, criticism of his easy adaptation to the French way of doing things, and annoyance over the degenerate French culture. Adams tried to rein in the dissension, but quarreling continued. The criticism of Franklin was relayed to the American Congress by several of the commissioners, including Arthur Lee, the brother of the influential Richard Henry Lee.
To establish order in Paris, Congress, after much deliberation, appointed Franklin minister plenipotentiary in late 1778. Subsequently, however, anger developed in Congress that France and Franklin were not doing enough. Over the next several years Congress made attempts to replace Franklin in Paris, but Vergennes would have none of it, making clear each time that France would have only Franklin. Despite the contention and frequent lack of support from home, Franklin was able to hold the French alliance together for six full years and secure continuous and substantial French loans for the American cause throughout this difficult period.
Stacy Schiff's book shows Franklin at his best as a diplomat, negotiator, and controller of events. Through his personal skills and loyalty, he had made himself the indispensable man at the court of Louis XVI. In his book, Gordon Wood called Franklin "the greatest diplomat America has ever had."
In 1781, at Yorktown, the British Army surrendered to the combined American and French armed forces, ending hostilities. The three countries then entered protracted negotiations over the peace treaty. The American commissioners consisted of Franklin (at Vergennes' insistence), John Adams, John Jay, and Henry Laurens.
At first Britain wanted to make independence a bargaining chip, but Franklin and the others rejected this out of hand. Both France and Britain had their own strong interests and points of view to negotiate, apart from America's requirement for written confirmation of independence. The three-pronged process dawdled along with a succession of British negotiators and little forward movement. Toward the end of long deliberations, dismissing the agreement to work closely with the French ministry, Franklin reluctantly joined Adams and Jay in direct negotiations with a new set of British commissioners. The Treaty of Paris was completed in 1783, securing recognition of American independence and boundaries stretching all the way to the Mississippi River, a provision which doubled the size of the United States.
It fell to Franklin to explain to Vergennes what the Americans had done without French participation, and he apologized in the most humble, profuse, and diplomatic manner for this unilateral action. Vergennes was faced with fait accompli, but insisted on American agreement to hold public release of the treaty until Britain and France had agreed to their own treaty. Subsequently Britain and France agreed to a second treaty, the Treaty of Versailles. When the Treaty of Paris was finally announced, Americans everywhere celebrated wildly its formal recognition of independence and the end of eight bitter years of war.
After the peace treaty was concluded, Franklin stayed on in France, writing his autobiography and enjoying his many friends, particularly those of the female gender. As John Adams noted, French women had "an unaccountable passion for age." Franklin enjoyed viewing the takeoff of the first successful aviation flight in history when the marquis d'Arlandes and a companion completed a 12-mile flight in a hot air balloon. The marquis sought out Franklin afterwards to assure him that he had landed safely. Finally, Franklin was recalled in May 1785 and Thomas Jefferson was appointed in his place. When Jefferson was asked whether he had come to replace Dr. Franklin, he famously replied, "No one can replace Dr. Franklin. I can only succeed him." Franklin returned home to Philadelphia in 1785 to a tumultuous welcome.
Benjamin Franklin lived the last five years of his life in Philadelphia. He was elected President of Pennsylvania (with duties like those of a Governor) and served two terms. In 1787, he attended the Constitutional Convention which proposed a new federal Constitution. Weakened and scarcely able to walk due to a severe gout condition, he attended every session, rarely spoke, but before the final vote, in a grand, long conciliatory speech, he addressed the Convention and President George Washington as follows:
"Mr. President: I confess that there are several parts of this Constitution I do not at present approve, but I am not sure I will never approve them; for having lived long I have experienced many instances of being obliged by better information, or fuller consideration, to change opinions even on important subjects, which I once thought right, but found to be otherwise.……On the whole, Sir, I cannot help expressing a wish that every member of the Convention who may still have objections to it, would with me, on this occasion doubt a little of his own infallibility, and to make manifest our unanimity, put his name to this instrument."
In 1789, George Washington wrote to Franklin as follows:
"If to be venerated for benevolence, if to be admired for talents, if to be esteemed for patriotism, if to be loved for philanthropy, can gratify the human mind, you must have the pleasing consolation that you have not lived in vain."
From 1786 to 1790, Franklin wrote many pamphlets and letters. His last public action was to petition Congress for the abolition of slavery.
Benjamin Franklin, attended by his two grandsons Temple Franklin and Benjamin Bache, died on April 17, 1790 at the age of 84. Over 20,000 people attended his funeral, the largest and most impressive funeral in Philadelphia to that point in time.
So ended the life of one of the greatest and most versatile statesmen in American history. He is buried in the cemetery of Christ Church in Philadelphia, beside his wife Deborah. James Madison moved that the House of Representatives wear mourning for one month, and the French National Assembly in Paris wore mourning for three days.
Memorials to honor Franklin are too many to enumerate, both in the United States and abroad. His home on Craven Street in London near Charing Cross celebrates his residency there with costumed docent tours. His home sites in Paris are well marked as well. In Philadelphia, his name graces buildings, highways, a street, a football stadium, and bridges. The Franklin Institute, memorializing Franklin's great interest in science, houses the Benjamin Franklin National Memorial with its impressive statue of Franklin by James Earle Fraser.
In 1981, the Free and Accepted Masons of Pennsylvania dedicated a bronze statue of Franklin overlooking the Philadelphia Masonic Temple, to celebrate 250 years of free masonry in Pennsylvania. His face appears on stamps, coins, and paper currency. Two Presidents proudly bore his name, Franklin Pierce, and Franklin D. Roosevelt.
Benjamin Franklin figures prominently in John Trumbull's famous painting "The Declaration of Independence" in the Rotunda at the U.S. Capitol, and in the mural painting by Barry Faulkner in the Rotunda at the National Archives. In 1862 a statue of Franklin by Hiram Power was installed in the Senate wing of the Capitol.
In 1968, Franklin was voted into the International Swimming Hall of Fame for his coaching and teaching of swimming as a young man, and in recognition of his three-and-a-half-mile swim in the Thames River.
In 2006, the Constitution Center in Philadelphia mounted an extraordinary exhibit celebrating the 300th anniversary of Benjamin Franklin's birth. It was appropriately named "In Search of a Better World."
Only the signature of Benjamin Franklin appears on all four founding documents that sealed America's independence and secured her future: The Declaration of Independence, the Treaty of Alliance with France, which made possible the victory at Yorktown, the Treaty of Paris, which secured British recognition of American independence, and the Constitution of the United States which is now the oldest extant constitution in the world.
Thornton C. Lockwood, DSDI member and first cousin many times removed, 2008
---
Sources:
Americana-Wikipedia, the free encyclopedia
Barthelmas, Della Gray, The Signers of the Declaration of Independence, 1997.
Billias, George A., Elbridge Gerry, Founding Father and Republican Statesman, 1976
Blatteau, John and Paul Hirshorn, The Illuminated Declaration of Independence, 1976
Collins, Gene, The Signers of the Declaration of Independence, 2000
Elbridge Gerry, www.ushistory.org
Ferris, Robert G. and Richard E. Morris, The Signers of the Declaration of Independence, 1982
From Revolution to Reconstruction: Biographies: Elbridge Gerry
Fradin, Dennis B., The Signers, 2000
Glynn, John C., DSDI member
Goodrich, Charles A., Lives of the Signers of the Declaration of Independence, 1829 ( www.colonialhall.com)
Gragg, Rod, The Declaration of Independence, 2005
Grolier Multimedia Encyclopedia
Hatfield, Mark O., Vice Presidents of the United States, 1789-1993, 1997
Lockwood, Thornton C., DSDI member
Lossing, B.J., Biographical Sketches of the Signers of the Declaration of American Independence, 1848
Malone, Dumas, The Story of the Declaration of Independence, 1954
NARA, The National Archives Experience
The Prudential Insurance Company of America, The Signers of the Declaration of Independence, date NS
Staller, Grace Keiper, DSDI member
Barthelmas, Della Gray, "The Signers of the Declaration of Independence," 1997.
Blatteau, John and Paul Hirshorn, "The Illuminated Declaration of Independence," 1976
Brand, H. W., "Benjamin Franklin, The Original American," 2004
Collins, Gene, "The Signers of the Declaration of Independence," 2000
Ferris, Robert G. and Richard E. Morris, "The Signers of the Declaration of Independence," 1982
Fradin, Dennis B., "The Signers," 2000
Goodrich, Charles A., "Lives of the Signers of the Declaration of Independence," 1856 (Internet ref.: ColonialHall.com, link: Biographies of the Founding Fathers.)
Gragg, Rod, "The Declaration of Independence," 2005
Isaacson, Walter, "Benjamin Franklin, An American Life," 2003
Lossing, B.J., "Biographical Sketches of the Signers of the Declaration of American Independence, 1848
Maier, Pauline, "American Scripture, Making the Declaration of Independence," 1997
Malone, Dumas, "The Story of the Declaration of Independence," 1954
The Prudential Insurance Company of America, "The Signers of the Declaration of Independence," date NS
Schiff, Stacy, "Dr. Franklin Goes to Paris," 2005
Wood, Gordon S., "The Americanization of Benjamin Franklin," 2004