Title:
Portraits of signers of the Declaration of Independence
Call Number:
MSS 12130
Citation:
Robert Edge Pine. Copies of Pine's Portraits of Signers of the Declaration of Independence,1820, Accession #12130, Albert and Shirley Small Special Collections Library, University of Virginia, Charlottesville, Va.
This photo has been identified as being free of known restrictions under copyright law, including all related and neighboring rights.
---
Spouse Information:

Elizabeth Bassett
(1730 - 1791)
---
Children:
8 children
(1726 - 1781)
Benjamin Harrison V
---
The stature of Benjamin Harrison and his impact went far beyond his large size.  As a Signer of the Declaration of Independence, he helped birth a new nation.  Two of his descendants became great leaders in their own right as Presidents of the United States.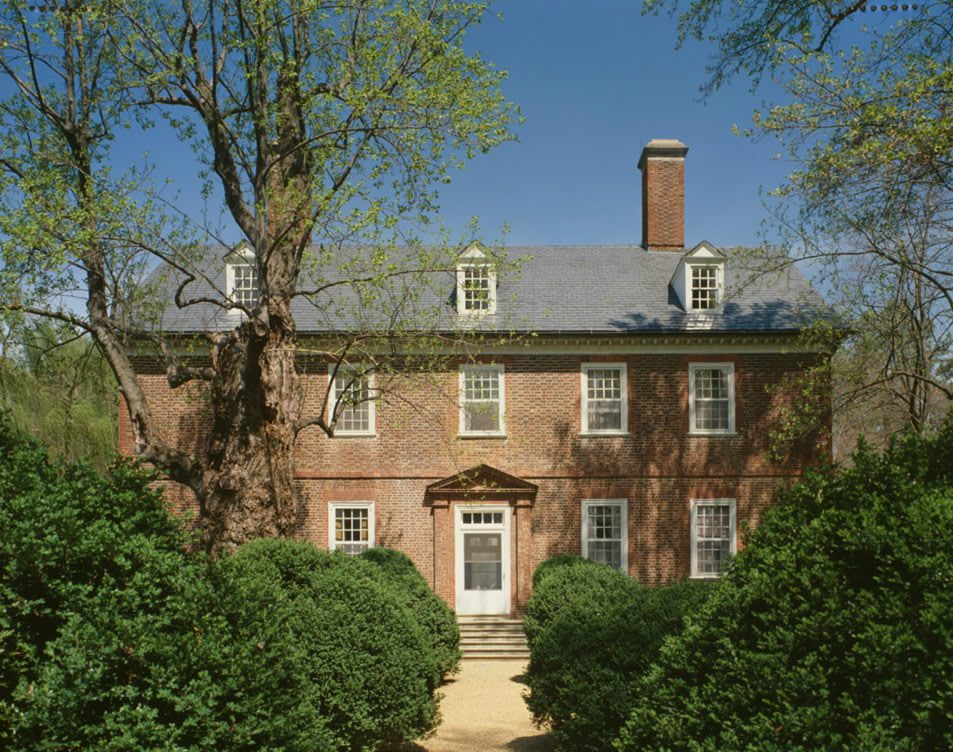 Benjamin Harrison (V) was born on April 5, 1726 at Berkeley Plantation, the eldest son of Benjamin Harrison IV and Ann Carter. Berkeley Plantation occupies a beautifully landscaped hilltop site overlooking the historic James River. Benjamin's father, Benjamin Harrison IV, was a member of the House of Burgesses from 1736 to 1744, and was Sheriff of Charles City. Harrison IV built Berkeley mansion in 1726 and his initials and those of his wife Ann appear in a datestone over a side door. It was built with brick fired on the plantation. Benjamin's great-great-grandfather, Benjamin Harrison I, first stepped on American soil on March 15, 1633. He emigrated from the Isle of Wight in England, became a tobacco planter, and was the first clerk of the Royal Council.
Benjamin's mother, Ann Carter, was the daughter of Robert "King" Carter, whose family like the Harrisons was a force in Virginia and American politics. He served for many years as treasurer of the Colony and member of the King's Council. The "King" was a wealthy and influential member of the Virginia aristocracy and owned over 300,000 acres and a thousand slaves. Ann's great-grandfather, William Carter, a resident of Casstown, Hereford County and the Middle Temple in England, came to Virginia about 1649 and built the ancestral home Corotoman in Lancaster County, Virginia.
Benjamin attended William and Mary College, where he met Patrick Henry and Thomas Jefferson. His classical studies education was cut short after a lightning strike killed his father and two of his sisters at Berkeley on July 12, 1745. The family tragedy happened to coincide with a disagreement he had with a college officer. At age 19, he returned home and took over managing Berkeley's 1,000-acre operations, which included ship building and horse breeding.
In 1748, at the age of 22, Benjamin married his second cousin Elizabeth Bassett, the daughter of William Bassett of neighboring New Kent County, and a niece of George Washington's wife Martha. Elizabeth's great-grandfather, William Bassett, came to America from Newport on the Isle of Wight and settled in Blissland in New Kent County, Virginia, where he died in 1671.
Eight of the Harrisons' children survived to adulthood. Their most famous son was William Henry Harrison, the American general in the victory over the Indians at Tippecanoe, and who was elected President of the United States in 1840. Their great-grandson, Benjamin Harrison, a Civil War general, was also elected President, in 1888.
Politics was a way of life for the Harrisons. As early as the 1640s, the First Family of Virginia had a reputation for arguing with British authorities over individual rights. One Harrison was imprisoned for six years for complaining about tyranny and treason.
Benjamin Harrison's public service began in the Virginia House of Burgesses in 1749. He continued there for about 25 years, sometimes as Speaker, until royal governor Dunmore dissolved the House in 1774. During this time his power and influence caught the attention of the royal governor, who tried unsuccessfully to recruit him for a seat on the executive council, a station corresponding to the Privy Council in England. Despite this prestigious opportunity Harrison identified more with the peoples' rights. Most likely his siding with the colonists came from his experience on the Property and Grievances and Trade Committees.
Harrison vehemently opposed the Stamp Act and helped pen the Colony's protest. But when the Stamp Act took effect, he opposed Patrick Henry's resolutions proposing civil disobedience as a countermeasure. By 1772, he was urging that the importation of slaves be curbed and heavily taxed.
After the dissolution of the Burgesses in 1774, the Virginia patriot was elected as a delegate to the First Continental Congress and was there on opening day, September 5, 1774. He chaired the early debates on the Articles of Association and signed them on October 20, 1774. When he first came to Philadelphia, Harrison roomed with his cousins Peyton Randolph and George Washington. Benjamin Harrison was highly regarded in Congress, and was frequently appointed Chairman of the Whole from March 1776 to August, 1777. He remained in Congress until 1778.
Benjamin Rush noted that Harrison "had strong state prejudices and was hostile to the leading men from the New England states." But Harrison appreciated the evenhandedness of the new President, John Hancock, complimenting him as "noble, disinterested and generous to a very great degree." On the important date of June 7, 1776 Benjamin Harrison was chosen to introduce fellow Virginian Richard Henry Lee, whose resolution called for independence from England. He was selected to read Jefferson's draft of the Declaration of Independence to the assembled delegates on July 1, and served as Chairman of the Whole during the debate over independence on July 2.
Harrison was well known for his sense of humor.  On August 2, while preparing to sign the Declaration of Independence, Harrison famously quipped to Elbridge Gerry (who had taken his place at the table to sign):
"I shall have a great advantage over you, Mr. Gerry, when we are all hung for what we are now doing.  From the size and weight of my body I shall die in a few minutes and be with the Angels, but from the lightness of your body you will dance in the air an hour or two before you are dead."
In Congress, Harrison solicited financial and other assistance from other countries as a member of the Secret Correspondence Committee. He also worked closely with General Washington as part of the Marine and War and Ordinances Committees in planning the American army.
During the war, he also took care of matters at home by serving as a lieutenant in the county militia, and took the job of chief magistrate as well.
After the war, Harrison remained active in Virginia politics as a member of the House of Delegates, which chose him to be its speaker. When his second- cousin Thomas Nelson, Jr., resigned from the governorship in 1781, Harrison was elected governor of Virginia and was re-elected twice. He was instrumental in shaping the U.S. Constitution as a member of the Virginia Ratification Convention in 1788 when he argued strenuously for a Bill of Rights prior to ratification, not after. Failing that he voted in favor and helped secure Virginia's ratification in a close vote. He sat on the committee that recommended rights to be included in what became the Bill of Rights.
In 1791, Harrison returned to serve in the state legislature.  Soon after his 65th birthday he suffered a severe case of gout, and on April 24, the disease took his life.  He is buried at his beloved Berkeley Plantation which is located between Richmond and Williamsburg on Route 5.  His wife died the following year and is buried beside him. 
In 1927, the Williamsburg Chapter of the DAR erected a bronze plaque in Harrison's memory in the Berkeley Plantation Graveyard.
Benjamin Harrison was a very large man, standing six feet four inches tall and weighing about 250 pounds. Before suffering from gout, he possessed a vigorous constitution, and in his manners was remarkably dignified. Because of his rotundity, joviality, love of good food, wine, and luxury he acquired the nickname the "Falstaff of Congress." His bawdy humor was said to have broken the tension in committee rooms. John Adams wrote that Harrison had "contributed many pleasantries that steadied rough sessions." According to the testimony of a gentleman who was a colleague in Congress, he was known for great firmness, good sense, and a peculiar sagacity in difficult and critical situations. In seasons of uncommon trial and anxiety, he was always steady, cheerful, and undaunted.
Benjamin Harrison's birthplace and lifelong home, Berkeley Plantation near Charles City, Virginia, has left its own mark on history.  The grounds where the mansion stands hosted the first Thanksgiving in America on December 4, 1619.  In 1780, American traitor and British General Benedict Arnold, at the head of a British invasion force, landed on the shores of the James River and began ravaging the homes nearby.  When they reached Berkeley Arnold ordered the ancestral portraits of the Harrisons thrown into a bonfire.  Berkeley served as General George McClellan's headquarters in his failed attempt to take Richmond for the Union during the Civil War.  It was at this James River plantation that the musical score for "Taps" was written.  The Plantation was sold to the Jamison family in the early 1900s, is still in operation and open to the public.  It is said to be the oldest 3-story brick house in Virginia.
Near the Washington Monument in Washington, D.C. is a Memorial Park dedicated to the Signers of the Declaration. One of the 56 granite blocks there is engraved with the name of Benjamin Harrison. Nearby in the Rotunda of the National Archives, in the mural painting by Barry Faulkner, Benjamin Harrison is shown just to the right of John Hancock. In the Rotunda of the U.S. Capitol is the famous painting by John Trumbull "The Declaration of Independence." Benjamin Harrison is shown prominently, seated in the left foreground wearing a rose-colored coat.
Brooks McNamara, DSDI member, 2008
---
Sources:
Barthelmas, Della Gray, "The Signers of the Declaration of Independence," 1997.
Blatteau, John and Paul Hirshorn, "The Illuminated Declaration of Independence," 1976
Collins, Gene, "The Signers of the Declaration of Independence," 2000
Ferris, Robert G. and Richard E. Morris, "The Signers of the Declaration of Independence," 1982
Fradin, Dennis B., "The Signers," 2000
Goodrich, Charles A., "Lives of the Signers of the Declaration of Independence," 1856 (Internet ref.: ColonialHall.com, link: Biographies of the Founding Fathers.)
Gragg, Rod, "The Declaration of Independence," 2005
Lockwood, Thornton C., DSDI member
Lossing, B.J., "Biographical Sketches of the Signers of the Declaration of American Independence," 1848
Malone, Dumas, "The Story of the Declaration of Independence," 1954
McNamara, Brooks, DSDI member
The Prudential Insurance Company of America, "The Signers of the Declaration of Independence," date NS