Title:
Portraits of signers of the Declaration of Independence
Call Number:
MSS 12130
Citation:
Robert Edge Pine. Copies of Pine's Portraits of Signers of the Declaration of Independence,1820, Accession #12130, Albert and Shirley Small Special Collections Library, University of Virginia, Charlottesville, Va.
This photo has been identified as being free of known restrictions under copyright law, including all related and neighboring rights.
---
Spouse Information:

Abigail Burr
Mary Osborne
---
Children:
John (son)
(1721 - 1784)
Lyman Hall
---
Lyman Hall was born in Wallingford, Connecticut, on April 12, 1724, the fourth of eight children born to the Hon. John Hall (1692-1773) and his wife, Mary Street (1698 – 1778). He was a descendant in the fifth generation of John Hall (1605-1676) of Coventry, England, who crossed the Atlantic to Boston in 1633, removed to Hartford and New Haven (1639), and later established his home in the village of Wallingford.
Lyman Hall's great-great-grandfather, Richard Lyman, was born in England and came to Boston in 1631 on the Lion.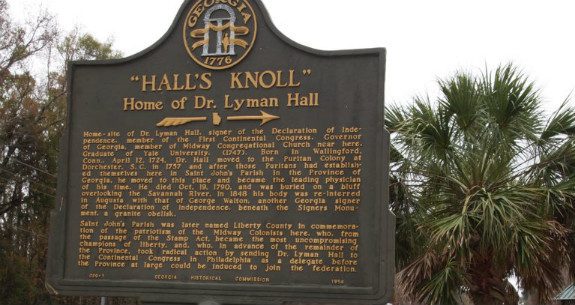 Mary Street, the mother of Lyman Hall, was the great-granddaughter of the Reverend Nicholas Street. He graduated from Oxford, came to America, and was at Taunton in the Plymouth Colony in 1638. He moved to New Haven in 1659 where he was a colleague of Reverend John Davenport, one of the founders of the New Haven Colony.
Graduating from Yale College in the 1747 class of twenty-eight members, Lyman Hall then studied theology under the guidance of his uncle, the Rev. Samuel Hall. In 1749, he began to preach in Bridgeport, and was ordained by the Fairfield West Consociation. In 1751, however, he was dismissed by the Consociation following a hearing on charges of immoral conduct. Those charges were proven, and confessed by him; but the Consociation, confident in his sincere repentance, voted to restore him to good standing in the ministry. He continued to preach for two years, filling vacant pulpits.
Hall then gave up his ministry, studied medicine, and received the degree of Doctor of Medicine. He had married Abigail Burr in 1752, but she died a year later, without children. Later in 1753, he married Mary Osborn of Fairfield, daughter of Samuel and Hannah Osborn, and they had one son, John, who died without issue in 1791. Hall settled in his native town of Wallingford, and began his practice of medicine.
To understand the next phase of his life, some background is necessary. In 1697 a body of Puritans from Dorchester and other towns in Massachusetts, took with them their pastor and moved to South Carolina, proclaiming their desire to encourage the foundation of churches and the promotion of religion in the Southern plantations. They settled on the Ashley River near Charleston and called their new community Dorchester. These enterprising colonists multiplied in numbers and in wealth, exerting a strong moral and political influence.
The good tidings of their success spread back to other Puritans in New England and attracted the interest of Dr. Hall – himself in full sympathy with the religious tenets of these Congregationalists. About 1754-5, he and a group of fellow adventurers moved their families and possessions and joined the Dorchester Puritan dwellers. He was cordially welcomed, and appears at once to have secured the confidence of the community, a happy move and professionally successful.
It was also about the time that certain leaders of the Dorchester settlers, worried about land sufficiency for their longer-term future there after 50 plus years of growth and development, cast an eye south to the lands in Georgia, the youngest Colony, largely unsettled until James Ogelthorpe arrived in 1733 with 114 settlers in Savannah. There were still problems with the Indians, and the Spanish were a menace in nearby Florida, but the growth potential was exciting and undeveloped land was available. A grant was obtained for 22,400 acres of rich land and swamps in the Midway District of St. John's Parish, what is now Liberty County. The emigration from Dorchester began in the 1750's, and there were 350 whites and 1500 Negro slaves in Midway District by 1756. Dr. Hall, following the fortunes of his newly formed friends, accompanied them to the Midway settlement.
His life thus changed from being a fifth generation "Connecticut Yankee" colonial to that of immigrant settler of Georgia's low country. He became the owner of a small plantation north of the Midway Meeting House on the Savannah-Darien highway. The region where the Dorchester congregation settled was densely wooded, marshy and filled with game. The waters were alive with fish, alligators, terrapins, and snakes. In either ignorance or disregard of the health dimensions, the immigrants located their plantation dwellings and plantation quarters on the edges of the swamps, ripe with malarial exposure. While vegetables were planted on the upland, attention was centered in the cultivation of the big money crop, rice, and to that end great labor was spent clearing, ditching, and draining the swamps. The noxious, polluted soil was thus exposed to the action of the searing sun, bringing much sickness and considerable mortality. With malaria in the summer and fall, and pleurisy in the winter and spring, Dr. Hall found ample employment for his best professional skill, and endeared himself to the community.
The town of Sunbury was laid out on high, beautiful land facing the Midway River. Dr. Hall bought two of the nicest lots and built a summer residence there, as did many members of the Midway congregation. He enjoyed visiting his patients. His reputation as a successful practitioner, and a bedside manner of sympathizing friend, was most enviable; he soon became the leading physician of the town and adjacent country. Dr. Hall was still young man, in his early 30's, six feet tall, well proportioned, cultured and educated, had polite manners, and was of a well-rounded character. His public spirit and thoughtful views rendered him popular among the inhabitants of St. John's Parish – the man had "it," perhaps charisma is the word today. In the gathering political storm of twenty years' duration, when the differences between England and her American colonies were discussed, and separation between them was seriously considered, Lyman Hall's sympathies from the first were with the "liberty boys" and he boldly espoused liberation from the kingly rule. Perhaps it was his Congregationalist preacher's background which aided his articulation, as he became leader and spokesman for the Puritan agitation rampant in St. John's Parish.
In Georgia, more so than in sister colonies, there was great division in sentiment on the political questions within the community. Parliament had awarded great sums of money and other generous bounties in the colony's recent settlement years, the royal party was active and strong, and the Governor was energetic in upholding the fortunes of his royal master. He was able to delay Georgia representation in the Continental Congress, so there were no Georgia delegates appointed to the 1774 session in Philadelphia. This chafed particularly the Puritan citizens of St. John's Parish, who had moral, social and political ties to the distressed Bostonians. Lyman Hall, as the leader and spokesman for them, attended meetings of the "Friends of Liberty" in Savannah where he soon became good personal friends, and closely allied with Button Gwinnett, a resident of nearby St. Catherine's Island, in the movement for independence and the need for urgency of representation to the Continental Congress. When the colonial assembly voted for more delays and negotiations with the King and failed to get Georgia moving toward joining the other colonies, Hall, and others from St. John's next sought to contract with a group in South Carolina, whereby they could deal and trade and bypass Savannah's officialdom control and increase the political pressure on the royalists. This was rejected by the Carolinians, and the people of St. John's Parish then voted to send Dr. Hall as their independent delegate to the Continental Congress.
On May 13, 1775, Dr. Hall arrived in Philadelphia and presented his credentials on behalf of the Parish of St. John to the Continental Congress, and was unanimously admitted as a delegate. Until Georgia was later fully represented, he declined to vote on any matters which were to be decided by a vote of colonies. This came to pass in the next few months, and Georgia assumed her rightful role in the sisterhood of the American colonies. On July 2, 1776, at age 52, Lyman Hall voted for the Declaration and signed it on August 2 along with Georgia's Button Gwinnet and George Walton.
He continued in Congress until 1780, when the British troops occupied Savannah and overran Sunbury and Liberty County. On the advice of General Washington, he then took his wife and son and fled the state to Connecticut, not to return until the last British troops had withdrawn from Georgia. For nearly two years he remained absent, and suffered great financial loss from the British confiscation of his home, plantation, and slaves. He quietly resumed the practice of medicine in Savannah upon his return in 1782. Free at last! While thus quietly employed, his leadership was sought once again, and in January, 1783, he was elected Governor of the State of Georgia.
While all were rejoicing the blessings of independence and the removal of the hated British troops, poverty, sorrow, and desolation were the heritage of many homes in Georgia. He had agreed to serve for only one year, so the energies of his administration were chiefly directed to establishment of land offices and sale of confiscated property; to the arrangement of the public debt; to the rewarding of officers and soldiers with bounty warrants for services rendered; to working toward the accommodation of differences and preventing disturbances with Florida; to the establishment of courts and schools; and most importantly, with the consummation of treaties of cession and friendship with Cherokee and Creek Indians. All that, and there were no in-place bureaus and departments of aides to formulate and carry out the plans to accomplish it. Then, on July 8, 1783, Governor Hall convened the Legislature in Augusta and called upon them to "enact wholesome laws restraining vice and to encourage the introduction of religion and learned clergy to perform divine worship in honor of God, and to cultivate the principles of religion and virtue among our citizens". He also called on them to grant tracts of land and endow institutions of learning. This early and wise suggestion paved the way for the foundation and sustentation of the University of Georgia, which became the parent of higher education and civilization in Georgia.
Upon the conclusion of this service, he resumed his medical practice in Savannah, and held no further public office. He evidently prospered in the next few years, as in 1790 he moved to Burke County and purchased a fine plantation on a bluff overlooking the Savannah River. It was there that he died on October 19, 1790, in his sixty-seventh year, leaving a widow, Mary, and an unmarried and childless son, John, both of whom died within a year of his death.
All were buried in a substantial brick vault on his land overlooking the Savannah River, and there he rested until 1848 when his remains were brought to Augusta and buried underneath a magnificent monument erected by patriotic citizens in front of the court house, honoring the three Signers from Georgia of the Declaration of Independence: Lyman Hall, Button Gwinnett, and George Walton. There is a cenotaph and a Lyman Hall High School in his birth town of Wallingford, Connecticut, honoring his life and accomplishments. Georgia also named a county in his honor in 1818. There are no direct descendants of this great patriot.
Near the Washington Monument in Washington, D.C., there is a park dedicated to the signers of the Declaration. A granite block is there, engraved with the name of Lyman Hall, and 55 other blocks are there with the names of each of the other 55 signers. In the Rotunda of the National Archives Building nearby, there is a mural painting of several of the signers by Barry Faulkner. Lyman Hall is shown in the top row, the third from the left.
Thornton C. Lockwood, member D.S.D.I, 2008
Edited by D.S.D.I. member, Rieman McNamara, Jr. – 2008
---
Sources:
Barthelmas, Della Gray, "The Signers of the Declaration of Independence", McFarland & Company, 1997.
Goodrick, The Rev. Charles A., "Lives of the Signers to the Declaration of Independence", William Reed & Co., New York, 1856. Pages 455-7
Jones, Jr.,Charles C., "Biographical Sketches of the delegates from Georgia to the Continental Congress", pages 88-105, University of Georgia Libraries
Photographs: 1. Lyman Hall portrait, University of Georgia Libraries 2.Portrait of the 3 Georgia Signers, Gwinnett, Walton and Hall (l-r), University of Georgia Libraries 3.Photograph of Monument to 3 Georgia Signers, Augusta, Georgia – actual.