Title:
Portraits of signers of the Declaration of Independence
Call Number:
MSS 12130
Citation:
Robert Edge Pine. Copies of Pine's Portraits of Signers of the Declaration of Independence,1820, Accession #12130, Albert and Shirley Small Special Collections Library, University of Virginia, Charlottesville, Va.
This photo has been identified as being free of known restrictions under copyright law, including all related and neighboring rights.
---
Spouse Information:

Laura Collins
(1733 - 1794)
---
Children:
4 - Oliver Jr., Laura, Maryann, Frederick
(1726 - 1797)
Oliver Wolcott
---
Oliver Wolcott was born on November 20, 1726 at Windsor, Connecticut, the 14th of 15 children of Roger Wolcott and Sarah Drake. As he grew into manhood he was described as tall, erect, dark-complexioned, dignified, and a man of integrity and deep Puritan faith.
The Wolcott family tree is impressive, both in the old world as well as the new. The earliest established member of the Wolcott line in England was William Wolcott, who was born in 1463 during the War of the Roses, and died in 1502. There is some evidence that this line of the Wolcott family may date back even further, as far back as the knight, Sir John Wolcott in 1382.
Oliver's great grandfather was Henry Wolcott, an English gentleman from the Parish of Lyiard, St. Lawrence, Somersetshire who was born in 1578 in Tolland, Somerset. Described as "a resolute Puritan, a stout-hearted and God-fearing man," he and his wife, Elizabeth Saunders, and three children emigrated on the ship, Mary, and John. The ship left Plymouth, England in 1630 and arrived in Massachusetts on May 31, 1630. They left behind two daughters, Anna and Mary, and their youngest son, Simon, 5 years old, who would become Oliver's grandfather.
The Wolcott family settled first in Dorchester, Massachusetts, and after six years there they moved to Windsor, Connecticut, the first English settlement in that colony. The first General Assembly of Connecticut was held at Hartford in 1637, and Henry Wolcott soon became an important figure there. He was a member of the Connecticut House of Delegates from 1637-1643, and a member of the House of Magistrates from 1643 until his death in 1655. Henry and Elizabeth Wolcott both died in 1655 and are buried in the churchyard of the First Congregational Church in Windsor, CT. Their three younger children came to America around 1640 and joined the family in Windsor.
Simon Wolcott, Oliver's grandfather, was a freeman at Windsor in 1654, and served in the 1st Connecticut Cavalry in 1658.  In 1661, after his first wife Joanna Cook died, Simon married Martha Pitkin, sister of William Pitkin, the Attorney General and Treasurer of Connecticut.  He received a grant of land at Simsbury, CT in 1667 and four years later sold his land at Windsor and moved to Simsbury where he was captain in the Simsbury militia in 1673.  When Simsbury was attacked and burned in an Indian raid, he returned to Windsor and settled on 200 acres on the south side of the river.  Simon died in 1687, leaving Martha to raise six children.  Their youngest son was Roger, Oliver's father.
Gov. Roger Wolcott, Oliver's father, was born in 1679 in Windsor CT, and died there in 1767. Living in the frontier village of Windsor, Roger did not have the opportunity to attend formal school.  However, once he learned to do so, he read extensively, including books on law.  He was apprenticed to a weaver around the age of 12.
In 1702, he married Sarah Drake, built a home at Windsor.  They had 15 children, but only eight survived childhood.  In 1707, he was elected a selectman for the town of Windsor, and he was admitted to the bar and to the General Assembly in 1709, at the advanced age of 30.  A year later he became a Justice of the Peace.
During Queen Anne's war in 1711, Roger joined the militia on their expedition to Québec as the supply master. When he returned, he was elected to Connecticut's Lower House. In 1714, he was elected to the Upper House and remained a member for 36 years. Some of the committees on which he served decided matters of finance, law revisions, boundaries, and Native American issues.
In 1721, Roger became a judge of the County Court of Hartford County and later became a Supreme Court judge in the Colony in 1732. In 1741 he was elected Deputy Governor of the Colony under Royal Governor Jonathan Law and simultaneously served as Chief Justice of the Superior Court.
In response to a general call by Massachusetts Governor William Shirley to the New England colonies for an expedition against the French during King George's War, Roger Wolcott, now 67 years old, was asked to become active in the militia again. Second in command of all the New England forces under the leadership of Sir William Pepperrell, Major General Wolcott led the Connecticut troops in the capture of the fortress at Louisbourg on Cape Breton, Île Royale, Canada in 1745.
Following the death of Governor Law in 1750, Roger Wolcott became the next Royal Governor of the Colony of Connecticut. He was re-elected annually for three years. Shortly after he retired as governor, his son, Roger Wolcott, Jr., attended negotiations with six other British colonies and around 200 members of various Indian nations at the Albany Congress in June and July 1754.
Apart from his political and military pursuits, Roger Wolcott enjoyed writing. He wrote a history of the Connecticut Colony, wrote a book of poetry, and contributed to church-related pamphlets. He died in 1767 at the age of 89 and was buried in Windsor's Palisado Cemetery.
Like himself, Roger's descendants and relatives would also become Governors of Connecticut, including his son, Oliver Wolcott, Oliver's son, Oliver Jr., Roger's son-in-law, Matthew Griswold, and Matthew's son, Roger Griswold.
Sarah Drake, Oliver's mother, was the daughter of Job Drake and Elizabeth Clark, the widow of Moses Cook, who was killed in King Philip's war in 1676. Job Drake's father, also Job Drake, married Mary Wolcott, Simon Wolcott's sister. Job's father, John Drake, came to America in the Mary and John in 1630 on the same voyage and ship as Henry Wolcott.
Oliver Wolcott, who would become a signer of the Declaration of Independence, attended Yale College and was a graduate in 1747 at the top of his class.  Following graduation, he received a captain's commission from Governor George Clinton of New York to raise a voluntary militia company in defense of the northern frontiers in the French and Indian War.  After the peace treaty of Aix-la-Chapelle ended the war, his regiment was disbanded and Oliver returned to Connecticut to study medicine with his uncle, Dr. Alexander Wolcott, intending to practice in Goshen.  Oliver's father owned property in Litchfield, and he moved there and took up law instead.  Oliver was elected Sheriff of the newly-organized county of Litchfield, a position he held from 1751 to 1771.  He also represented Litchfield in the General Assembly, serving in the lower house and upper house of the colonial and state legislatures, and later as judge of the Probate Court, judge of the County Courts.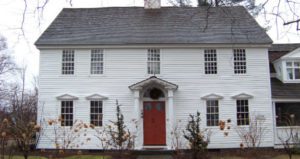 In 1755, Oliver married Laura Collins of Guilford and they had five children.  Laura was the daughter of Captain Daniel Collins and Lois Cornwall.  Daniel Collins was a sea captain, and both families were descended from early settlers of New England.  The family tree of the Collins and Cornwall families included Governor William Leete, who came to America from Hail Weston, Huntingdon on the St. John in 1639, and lived in Guildford and Hartford.  Governor Leete signed the Plantation Covenant of June 1, 1639 for the New Haven Colony, became Governor of the Colony, and later Governor of Connecticut.  William Chittenden came from East Guilford, County Sussex, had achieved the rank of major in the Netherlands army, and was the founder of the church at Guilford, Connecticut in 1639.
During the 40 years that Oliver and Laura were married, the Wolcott home was known for its generous hospitality, especially for those who supported the patriotic cause in which they both believed.  They were Congregationalists and devout Christians.  The Wolcotts donated money for the army as well as blankets and other supplies from their farm during the war.  The National Encyclopedia of American Biography describes Laura as follows: "She was a woman of almost masculine strength of mind, energetic and thrifty; and while Governor Wolcott was away from home, she attended to the management of their farm, educated their younger children, and made it possible for her husband to devote his energies to his country."
Oliver remained active in the militia during the period leading up to and including the Revolutionary War, devoting portions of each year to militia duty. He rose through the ranks, serving as captain and then major in 1771, was promoted to colonel in 1774, and later was named major general.
In 1774, Oliver was elected a member of the Connecticut Council, a position he held until 1786. During that time, he was also a delegate to the Continental Congress, a judge of the Litchfield County Court and a probate judge for the district. In the spring of 1775, the legislature named him to oversee the commissary for the Connecticut troops. In the summer of 1775, the Continental Congress designated him as a Commissioner of Indian Affairs for the northern department. In this role, he attended a conference with the Iroquois (Six Nations) at Albany, New York that temporarily gained their neutrality in the war. At the end of 1775, he also helped in the arbitration of land disputes between Pennsylvania and Connecticut, New York, and Vermont.
Wolcott first attended the second Continental Congress in January 1776, and served in Congress for seven years, except for the year 1779. As evidenced by a letter he wrote to his wife, Laura, he was strongly optimistic about independence.
"A final separation between the countries I consider as unavoidable," he wrote in April 1776. He remained during the main debates, but due to illness, he left for his home in Connecticut in June before the final debates about the Declaration began.
When Colonel Wolcott had recovered from his illness, rather than return to Philadelphia, he was appointed by Connecticut Governor Jonathan Trumbull and the Council of Safety to command a detachment of Connecticut militia (14 regiments) to defend New York. He thoroughly organized those troops, divided them into brigades, and participated in the actions around New York.
On July 9, 1776, Wolcott was in New York City when General George Washington read the Declaration of Independence to his troops. A demonstration in the streets followed, after which a group of soldiers and patriots toppled the 4,000-pound equestrian statue of King George III. The statue, which had been erected in Bowling Green in 1770, was made of lead coated with a fine layer of gold leaf, and it was either shattered or smashed into many pieces by the crowd.
In their fury, the crowd cut off the statue's head, severed the nose, and mounted what remained of the head on a spike outside a tavern. It is said that the head of the statue was sent back to England in a display of rebellion. Wolcott arranged for the collection of pieces of the statue and shipment to the port of Norwalk, Connecticut. Here they were loaded onto ox carts and rolled the 60-some miles to the general's home in Litchfield. There, in the orchard behind their house, Oliver, Laura, and their children, together with some local patriotic ladies, melted the lead and shaped it into bullets for the war effort.
Wolcott's son, Frederick, would later attest that his father took an axe and chopped up some of the lead pieces himself. In a memorandum purporting to be in the handwriting of Oliver Wolcott, now in the possession of the Connecticut Historical Society, there is a list of who helped to make bullets, which totaled 42,088. The list includes the Wolcott children. "Mrs. Marvin 6,058; Ruth Marvin 11,592; Laura [age 15] 8,378; Mary Ann [age 11] 10,790; Frederick [age 9] 936; Mrs. Beach 1,802; made by sundry persons 2,182; gave Litchfield militia on alarm 50; let the regiment of Col. Wigglesworth have 300." (General Wolcott would later take the bullets to Saratoga, where he and his militia helped defeat the British Army under General Burgoyne.)
Oliver Wolcott was appointed Brigadier General in August 1776 and assumed command of 14 Connecticut Militia Regiments to serve on Long Island during the battle of Brooklyn. He returned to Philadelphia that autumn and signed the Declaration of Independence.
In December 1776, before Congress fled from Philadelphia to Baltimore due to the advancing British troops, General Wolcott wrote to his wife: "Whether the (British) army will succeed in their cruel designs against this city must be left to time to discover.  Congress has ordered the General to defend it to the last extremity, and God grant that he may be successful in his exertions!  Whatever event may take place, the American cause will be supported to the last and I trust in God that it will succeed.  The Grecian, Roman, and Dutch States were in their infancy reduced to the greatest distress, infinitely beyond what we have yet experienced.  The God who governs the universe and who holds empires in His hand, can, with the least effort of His will, grant us all that security, opulence, and power which they have enjoyed……. May the Almighty ever have you and them in His protection!"
During the summer of 1777, Wolcott was actively engaged in recruiting for the militia. He reinforced General Israel Putnam's forces on the Hudson River with hundreds of volunteers. Later that summer General Wolcott marched 300 volunteers to reinforce General Horatio Gates in the defeat of General Burgoyne's troops at Saratoga, New York in October 1777.
General Wolcott returned to Congress afterwards, which was then meeting in York, Pennsylvania due to the British occupation of Philadelphia, from February to July 1778. He signed the nation's first Constitution, the Articles of Confederation, a copy of which now resides in the home of William Floyd (another signer of the Declaration) in Westernville, New York.
When Royal Governor William Tryon began his expedition of plundering the Connecticut coast during the summer of 1779, Major General Wolcott took command of a division of state militia and successfully defended the southwestern coast against the raids on Fairfield and Norwalk.
While Oliver Wolcott was re-elected to Congress in 1780 and remained a member until 1783, he did not attend sessions regularly as his time was often divided between civil and military affairs. He helped to negotiate two Indian treaties: the Second Treaty of Fort Stanwix, New York (1784) in which the Iroquois ceded to the United States some of their lands in New York and Pennsylvania; and another (1789) with the Wyandottes, who gave up their tract in the Western Reserve, in present Ohio.
In 1786, he was elected Lieutenant Governor of Connecticut, a post he held for ten years. He was a member of the Connecticut State Convention which voted for the ratification of the Constitution of the United States in 1787. In 1796, he was a presidential elector, voting for John Adams who was elected President. When Connecticut Governor Samuel Huntington, a signer of the Declaration, died in 1796, Oliver Wolcott became Governor, a position his father had held 45 years earlier.
A proclamation Oliver Wolcott decreed as Governor of Connecticut in Litchfield on October 25, 1797 reads as follows:
"I have, therefore, with the Advice of Council, and by the Desire of the House of Representatives, thought proper to appoint, and do hereby appoint, Thursday the sixteenth day of November next to be observed as a Day of public THANKSGIVING and PRAYER to Almighty God, throughout this State;"
Laura Collins Wolcott did not see her husband become Governor. She died in Litchfield, CT on April 19, 1794 at the age of 63. Governor Oliver Wolcott died on December 1, 1797 at the age of 71. He was buried at East Cemetery in Litchfield beside his wife.
It was said that Oliver Wolcott, who was both soldier and politician, helped the idea of independence through the reality of the battlefield.  He was a devoted patriot who was regarded by the leaders of the Revolution to be a brave defender of the cause. Lossing said of Governor Wolcott: "As a patriot and a statesman, a Christian and a man, Governor Wolcott presented a bright example for inflexibility; virtue, piety, and integrity were his prominent characteristics."
The historian of Litchfield paid this tribute to Oliver Wolcott's public career: "He was singularly modest and even diffident with men in the common walks of life.  Those who best knew this gentleman well knew that the highest trust was never improperly placed in him.  He possessed a benevolent heart and was warm in his friendship, a firm friend to order, a promoter of peace; a lover of religion; and a tried, unshaken friend to the institution of this Gospel.  He was an indefatigable student and neither wasted his time nor his words.  His mind was clear and penetrating; in his views of political subjects, just and comprehensive in discernment of the wisest means to promote the best ends, ready and exact; and his acquaintance with science extensive.  He had a remarkable talent at investigation.  He has left a name which is a sweet savor to his surviving friends; and a lively hope that he is enjoying the rewards of the faithful in immortal bliss."
Wolcott earned an MA degree from Yale College in 1765, and received an honorary LL. D degree there in 1792. He served as President of the Connecticut Society of Arts and Sciences.
Oliver Wolcott's home in Litchfield, CT was declared a National Historic Landmark in 1971. The town of Wolcott, Connecticut was named in honor of Oliver and his son, Oliver, Jr.
In Washington, D.C., on the mall near the Washington Monument, there is a memorial park and a lagoon dedicated to the memory of the signers of the Declaration, and one of the 56 granite blocks there bears the name of Oliver Wolcott. Oliver Wolcott's image is shown in the famous John Trumbull painting of the Declaration of Independence that hangs in the rotunda of the nation's capital. Wolcott is the figure standing on the right in the far-right center group of two standing delegates, just to the left of John Hancock.
Oliver Wolcott's son, Oliver Wolcott, Jr. played a prominent role in the life of the early American republic. He was born in Litchfield, CT on January 11, 1760. The second son of Oliver Wolcott and Laura Collins Wolcott, Oliver Jr. entered Yale College at age 13 and was a member of the militia during his college years. He graduated in 1778 and returned home to study at the Litchfield Law School under its founder, Judge Tapping Reeve. Three years later, he was admitted to the Connecticut bar.
On June 1, 1785, Oliver Wolcott Jr. married Elizabeth (Betsey) Stoughton, the daughter of Captain John Stoughton, and they had four children, two of whom died young.
Oliver Wolcott Jr. began his political career in 1792 when he was appointed to the Committee of the General Assembly. In 1788, he moved up to the position of the Connecticut Comptroller, a job which required him to manage the financial affairs of the state. He attracted national attention as a specialist in public finance for his work in settling the financial dispute between Connecticut and the Federal Government in 1789.
From 1789-1791, Oliver Wolcott, Jr. was chosen to be an Auditor of the National Treasury and promoted to Comptroller of the United States Treasury in the spring of 1791. He was appointed by President George Washington to succeed Alexander Hamilton as Secretary of the Treasury on February 3, 1795. He held that position through the end of George Washington's administration and into that of John Adams. Upon his resignation on December 31, 1800, he was appointed by President Adams as a judge of the U.S. Circuit Court, Second District, which included Vermont, New York, and Connecticut.
After his service on the U.S. Circuit Court, Wolcott moved to New York City in 1802 and established himself in the mercantile business. From 1805-1810, Oliver Wolcott, Jr., Benjamin Tallmadge, and Frederick Wolcott procured the ship, TRIDENT, and financed voyages to China to carry out this trade. Some of the imported items which the ship carried back included tea, yellow and white nankeen (a type of cloth manufactured in China), silks and pearl-handled combs, china, and lacquered items.
Oliver became president of the newly-organized Merchants Bank in 1803 for one year and later helped to found and then serve as the first president of the Bank of North America from 1812 to 1814.
In 1814, Oliver returned to Litchfield and joined his brother, Frederick, in a partnership to run textile mills in Wolcottville (now Torrington), Connecticut. They manufactured woolen cloth and imported sheep from Spain and cattle from Britain.
Oliver Wolcott, Jr. was elected Governor of Connecticut for ten years (1817-1827). Retiring from public service, he returned to New York City where he died on June 1, 1833, the last surviving member of George Washington's cabinet. He is buried in East Burying Ground in Litchfield.
This biography was compiled by DSDI descendants of Oliver Wolcott
---
Sources:
Barthelmas, Della Gray, The Signers of the Declaration of Independence, 1997.
Blatteau, John and Paul Hirshorn, The Illuminated Declaration of Independence, 1976
Collins, Gene, The Signers of the Declaration of Independence, 2000
Ferris, Robert G. and Richard E. Morris, The Signers of the Declaration of Independence, 1982
Fradin, Dennis B., The Signers, 2000
Goodrich, Charles A., Lives of the Signers of the Declaration of Independence, 1829 (Internet ref.:  ColonialHall.com, link: Biographies of the Founding Fathers.)
Gragg, Rod, The Declaration of Independence, 2005
Lossing, B.J., Biographical Sketches of the Signers of the Declaration of American Independence, 1848
Malone, Dumas, The Story of the Declaration of Independence, 1954
The Prudential Insurance Company of America, The Signers of the Declaration of Independence, date NS