Title:
Portraits of signers of the Declaration of Independence
Call Number:
MSS 12130
Citation:
Robert Edge Pine. Copies of Pine's Portraits of Signers of the Declaration of Independence,1820, Accession #12130, Albert and Shirley Small Special Collections Library, University of Virginia, Charlottesville, Va.
This photo has been identified as being free of known restrictions under copyright law, including all related and neighboring rights.
---
Spouse Information:

Catherine Moffat
(1723 - 1821)
---
Children:
One son William who died as an infant.
(1730/31 - 1785)
William Whipple
---
His father, also named William Whipple, was a native of Ipswich, and worked as a maltster, now called a brewer. He later became a sea captain and moved to Kittery. William Whipple's great great grandfather, Matthew Whipple, left Bocking, England and emigrated to Ipswich around 1638. His father had been a clothier in Bocking.
His mother was the daughter of Robert Cutts, a distinguished ship-builder, who established himself at Kittery, where he became wealthy, and at his death left a handsome fortune to his daughter, including the Cutt home in Kittery: "my land or farm at Crooked Lane, with dwelling house and other buildings thereon." Mary Cutt was the granddaughter of William Cutt who left Bristol in England and settled in Portsmouth.
The education of young Whipple was in the public schools in his native town, but he was also tutored by Robert Gerrish, his mother's cousin, who was a Harvard graduate. On leaving school, he entered on board one of his father's merchant vessels, and by the age of 21 was captain of his own ship. His voyages were chiefly confined to the West-Indies, and proving successful, he acquired a considerable fortune.
In 1759, at the age of 29, having acquired substantial wealth, he relinquished the seafaring life, and went into business with two of his brothers on Bow Street on Spring Hill in Portsmouth.
After a disappointing courtship, wherein he was left at the alter by his fiancée, Whipple later married his cousin Catherine Moffat, then 35 years of age, in 1767. In 1769, the Whipple's moved into the Moffat home, a distinguished Georgian colonial home still standing in Portsmouth.
Catherine Moffat was the daughter of the Honorable John Moffat and Catherine (Cutt) Moffat. John Moffat was the grandfather of Governor John Langdon, a signer of the Constitution, who was a close collaborator of Whipple, Josiah Bartlett, and Matthew Thornton during the Federal period. Her grandfather, Robert Cutt, was a shipwright who left Bristol and emigrated to Kittery in 1663.
Mr. Whipple soon entered with spirit into the controversy between Great Britain and the colonies, and being distinguished for the general probity of his character, as well as for the force of his genius, was frequently elected by his townsmen to offices of trust and responsibility. In 1764 Whipple was on a committee to prevent tea from being landed at Portsmouth.
In the provincial congress, which met at Exeter, January, 1775 to elect delegates to the Continental Congress in Philadelphia, Whipple represented the town of Portsmouth. He also represented that town in the provincial congress, which was assembled at Exeter the following May, and by that body was appointed one of the provincial committees of safety. In 1776 he was appointed a delegate to the Continental Congress. Sensing the increasing sentiment for freedom, Whipple wrote as follows to Josiah Bartlett on January 7, 1776: "This year, my Friend, is big with mighty events. Nothing less than the fate of America depends on the virtue of her sons, and if they do not have virtue enough to support the most Glorious Cause ever human beings were engaged in, they don't deserve the blessings of freedom."
Whipple was present in Congress and voted for independence on July 2, the Declaration of Independence on July 4, and signed the Declaration on August 2.
"The memorable day which gave birth to the declaration of independence afforded, in the case of William Whipple," as a writer observes, "is a striking example of the uncertainty of human affairs, and the triumphs of perseverance. The cabin boy, who thirty years before had looked forward to a command of a vessel as the consummation of all his hopes and wishes, now stood amidst the congress of 1776, and looked around upon a conclave of patriots, such as the world had never witnessed. He whose ambition once centered in inscribing his name as commander upon a crew list, now affixed his signature to a document, which has embalmed it for posterity."
In Congress, Whipple was distinguished for great activity, and by his perseverance and application commended himself to the respect of the national assembly, and to his constituents at home. He was particularly active as one of the superintendents of the commissaries and quartermaster's departments, in which he was successful in correcting many abuses, and in giving to those establishments a proper correctness and efficiency.
The Marine Committee, of which Whipple was a member, appointed John Paul Junes to command the Ranger in Portsmouth on June 8, 1777, and Whipple was appointed to carry the authorization to Jones who was then in Boston, waiting for orders from Congress.
In the summer of 1777, while Mr. Whipple was a member of Congress, he was appointed a brigadier general of New Hampshire militia, along with the celebrated John Stark, by the assembly of New Hampshire. Great alarm at this time prevailed in New Hampshire, in consequence of the evacuation of Ticonderoga by the Americans, its consequent possession by the British, and the progress of General Burgoyne, with a large force, toward Albany. Both New Hampshire generals set out to join General Gates.
Before he left for New York, Whipple dined with Reverend Ezra Stiles, who wrote in his diary that Whipple had shown him the first draft of the country's new constitution, the Articles of Confederation, which Whipple had brought home from Congress.
The intrepid conduct of General Stark, in the ever-memorable defense of Bennington in September, must be only alluded to in this place. The advantage thus gained, laid the foundation for the still more signal victory which was obtained in October by General Gates. For the first time, General Burgoyne became sensible of the danger of his situation. He had regarded the men of New Hampshire, and the Green Mountains, with contempt. But the battle of Bennington taught him both to fear and respect them. In a letter addressed about this time to Lord Germaine, he remarked: "The New Hampshire Grants, till of late but little known, hang like a cloud on my left."
Leaving Portsmouth to join General Gates, Whipple was attended by a faithful Negro servant, Prince, a native of Africa. An interesting story has come down about a conversation between the two men. "Prince," said the general, one day, as they were proceeding to their place of destination, "we may be called into action, in which case, I trust you will behave like a man of courage, and fight bravely for the country." "Sir," replied Prince, in a manly tone, "I have no wish to fight and no inducement, but had I my liberty, I would fight in defense of the country to the last drop of my blood." "Well," said the general, "Prince, from this moment you are free." Later investigation suggests that Prince was not freed until later.
The militia from the neighboring states hastened to reinforce the army of General Gates, which was now looking forward to an engagement with General Burgoyne. This engagement soon took place at Saratoga, and ended in the surrender of the royal army to the American troops. In this desperate battle General Whipple commanded New Hampshire troops. On that occasion, his meritorious conduct was rewarded by his being jointly appointed with Colonel Wilkinson, as representatives of General Gates, to meet two officers from General Burgoyne, and settle the terms of capitulation.
Whipple was also selected as one of the officers appointed to conduct the surrendered army to their destined encampment on Winter Hill, in the vicinity of Boston. Meeting John Paul Jones in Boston, Whipple passed him a note saying: "Purchase in France for Madame Whipple several pairs of gloves, and enough black cloth to make several cloaks and dresses." On November 1, the Ranger sailed for France with the news of Burgoyne's surrender, and the report made its way to Benjamin Franklin in Paris. This news was the event that persuaded the French court to form an Alliance with the United States, an Alliance which made possible the end of hostilities at Yorktown in 1781.
Soon after delivering General Burgoyne to the authorities in Boston, Whipple entertained his good friend John Adams and Reverend Ezra Stiles who was soon to become President of Yale. The clergyman noted in his diary, "Spent the evening with General Whipple in company with John Adams." They must have shared some interesting views on the improved prospects for American independence. Soon after, Stiles dined with Whipple, and the company included General Glover of Marblehead, who had had the pleasure of escorting many of Burgoyne's troops back to Boston.
In 1778, General Whipple, with a detachment of New Hampshire militia, was engaged, under General Sullivan, in executing a plan which had for its object the retaking of Rhode Island from the British. By some misunderstanding, the French fleet, under Count D'Estaing, which was destined to co-operate with General Sullivan, failed to render the expected assistance, in consequence of which General Sullivan was obliged to retreat. General Sullivan, with his troops, occupied a position on the north end of the island. One morning, while several officers were breakfasting in the general's quarters, a detachment of British troops were perceived on an eminence, at the distance of about three quarters of a mile. A field piece was soon after discharged by the enemy, the ball of which, after killing one of the horses at the door, passed through the side of the house, into the room where the officers were sitting, and so shattered the leg of General Whipple, that immediate amputation became necessary.
During the remaining years of Mr. Whipple's life, he filled several important offices. In 1780, he was elected a representative to the general assembly of New Hampshire, the duties of which office he continued to discharge during several re-elections, with much honor to himself, and to the general acceptance of his constituents.
After freeing his own slaves, Whipple wrote as follows to Josiah Bartlett, "The last accounts from South Carolina were favorable. A recommendation is gone thither for raising some regiments of blacks. This, I suppose, will lay a foundation for the emancipation of those wretches in that country. I hope it will be the means of dispensing the blessings of Freedom to all humanity in America."
In 1782, he was appointed receiver of public moneys for the state of New Hampshire, from Robert Morris, the superintendent of finance appointed by the Congress. The duties devolving upon him were both arduous and unpopular. The collection of money was, at that time, extremely difficult. Whipple experienced many vexations in the exercise of his commission; and at length, in 1784, found it necessary, on account of the infirm state of his health, to relinquish his office. About the same time that he received this appointment, he was created a judge of the superior court of judicature. He began now, however, to be afflicted with strictures in the breast, which prevented him from engaging in the more active scenes of life. He was able, however, to ride the circuits of the court for two or three years, but owing to an affection of the heart, his effectiveness was limited.
In the fall of 1785, while riding the circuit, this disorder so rapidly increased, that he was obliged to return home. From this time, he was confined to his room, until the 28th day of November, when he expired, in the 55th year of his age. He was buried in the North Cemetery, as was his servant "Prince", whose grave marker indicates that he was a soldier in the American army.
The mind of Mr. Whipple was naturally strong, and his power of discrimination quick. In his manners, he was easy and unassuming; in his habits correct, and in his friendship's constant. Although his early education was limited, his subsequent intercourse with the world, united to his natural good sense, enabled him to fill with ability the various offices to which he was appointed.
Few men have exhibited a more honest and persevering ambition to act a worthy part in the community, and few, with his advantages, have been more successful in obtaining the object of their ambition.
On December 9, 1785, the New Hampshire Gazette noted: "On Monday the 28th of November, died, universally lamented, the Hon. Gen. William Whipple, Judge of the Superior Court of New Hampshire. 'In him concentrated every principle that exalts the dignity of man. His disinterested patriotism and public services are now known to all. And when newspaper encomiums are lost in oblivion, the pen of the historian shall preserve the remembrance of his virtue in the breast of succeeding generations. During the long course of unequaled sufferings, he endured his lot with a firmness correspondent to the greatness of his mind.
He viewed his approaching dissolution with a heroic fortitude, in full confidence, that He who made him knew best how to dispose of him. In his extremist agonies, his mind was still revolving schemes for the happiness of mankind, and those sentiments of benevolence which distinguished him while living, were the last that died in him. He was generous and humane, and the elements so mixed in him that nature might rise up and say THIS WAS A MAN."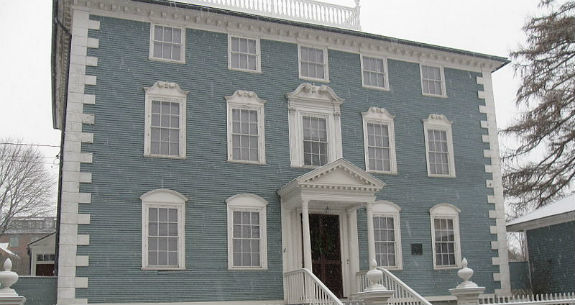 William and Catherine Whipple lived for many years in the Portsmouth home known as the Moffatt-Ladd Home and Garden. It has been open to the public as a historic house museum since 1912. This impressive Georgian home was built for John Moffat, Whipple's father-in-law, beginning in 1760. The house is furnished to showcase its original features and to reflect its use as a private home. It is featured in the publication, "Homes of the Founding Fathers."
In Washington, D.C., near the Washington Monument, is a small park and lagoon celebrating the memory of the signers of the Declaration of Independence, and one of the 56 granite blocks there bears the name of William Whipple.
John C. Glynn, Jr., DSDI, 2011
---
Sources:
Barthelmas, Della Gray, The Signers of the Declaration of Independence, A Biographical and Genealogical Reference, 1997, McFarland and Company, Inc., Publishers, Box 611, Jefferson, NC 28640
Goodrich, Charles A., Lives of the Signers of the Declaration of Independence, 1829. (Colonial Hall)
Vaughn, Dorothy Mansfiled, This Was A Man, 1964