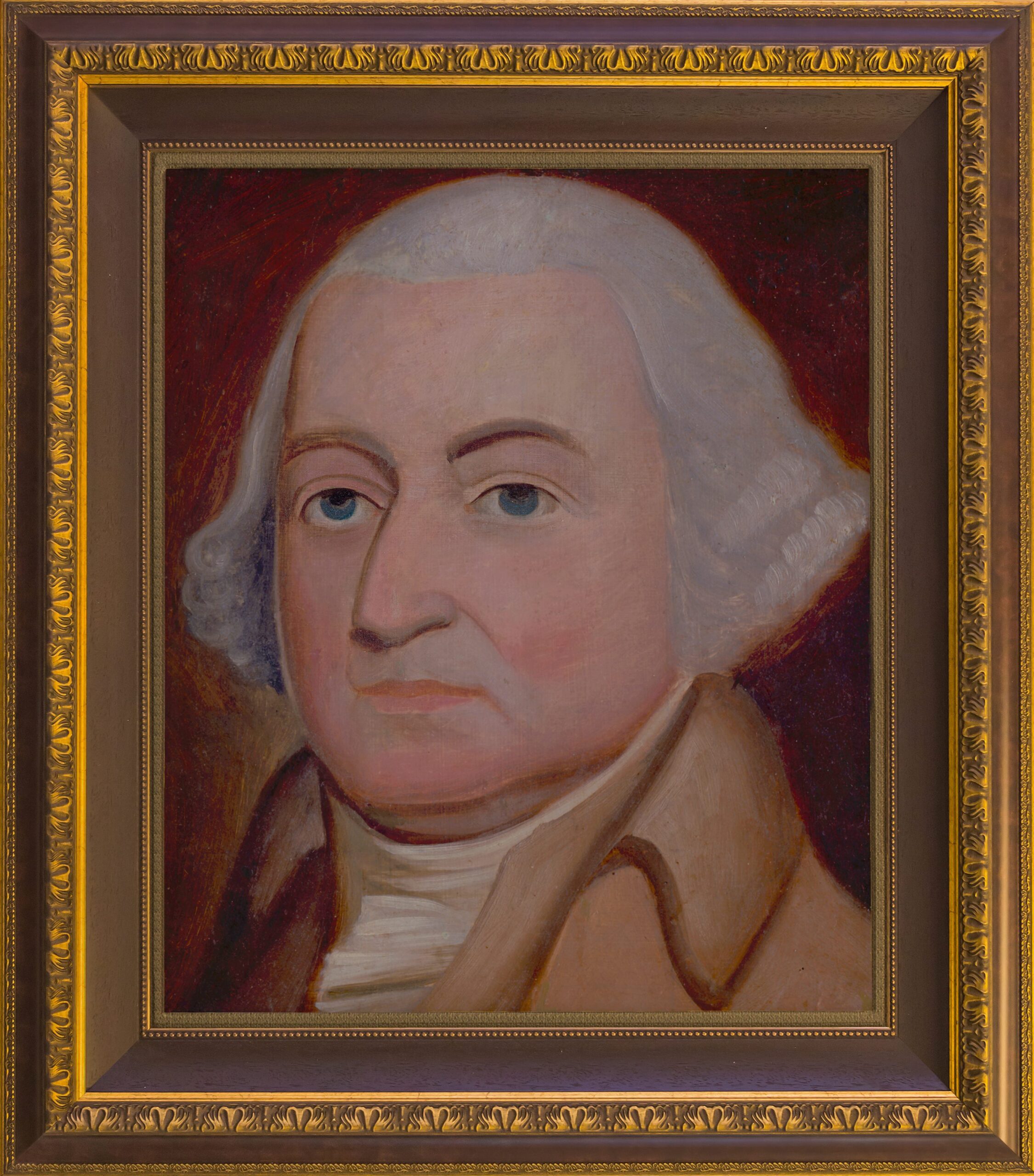 Title:
Portraits of signers of the Declaration of Independence
Call Number:
MSS 12130
Citation:
Robert Edge Pine. Copies of Pine's Portraits of Signers of the Declaration of Independence,1820, Accession #12130, Albert and Shirley Small Special Collections Library, University of Virginia, Charlottesville, Va.
This photo has been identified as being free of known restrictions under copyright law, including all related and neighboring rights.

Click photos to enlarge
---
Spouse Information:

Abigail Smith
(1744 - 1818)
(1735 - 1826)
John Adams
---
John Adams was born in Braintree, Massachusetts October 30, 1735. His Puritan great-great-grandfather, Henry Adams, sailed from Devonshire, England seeking religious freedom as did his Mayflower pilgrim ancestors John Alden and Pricilla Mullins who landed at Plymouth Rock. His father, John Adams, was a Harvard educated farmer who supplemented his income by making shoes.
John Adams graduated from Harvard College in 1755 and became a schoolteacher. After a year he decided to become a lawyer, in 1758 was admitted to the bar and began practicing law in Braintree. In 1764 at age 29 he married his 19-year-old cousin Abigail. They were devoted to each other; she was his "Dearest Friend," in letters – his "best, dearest, worthiest, wisest friend in the world"—while to her he was "the tenderest of husbands," her "good man." They had five children, the oldest son John Quincy, became the sixth President of the United States. Abigail would be the very first lady of the White House, and the first woman to be wife of one President and mother of another. There has only been one other, Barbara Bush in 2001.
In 1766, Adams moved his law practice to Boston, became active in politics, and improved his reputation as a lawyer. After the Boston Massacre in 1770 that killed five colonists, Adams and Josiah Quincy acted as defense attorneys for the nine British soldiers charged in the deaths. Adams and Quincy won the acquittal of all soldiers but two who were reprimanded.
Political events drew Adams into public life and he became identified with the patriotic cause. In 1774 Adams was elected as a delegate from Massachusetts to the first Continental Congress. He visited places he had never seen and met political leaders in New York, Princeton, and Philadelphia. Adams convinced the delegates to organize the Sons of Liberty who were besieging the British in Boston. Adams nominated George Washington to be commander in chief of the Army. After the battle of Bunker Hill in 1775, Adams wrote "The die is now cast. . . Sink or swim, live or die, survive or perish with my country is my unalterable determination." Adams was reelected to the second Continental Congress.
On June 11, 1776, a committee of five was chosen to prepare a declaration. Those members were Thomas Jefferson, John Adams, Benjamin Franklin, Roger Sherman, and Robert Livingston. Two days later the committee members met but Benjamin Franklin was not present for the meetings, as he was suffering from an attack of the gout. Thomas Pickering later wrote to Adams wondering why young Thomas Jefferson was selected to draft the Declaration of Independence, and not Richard Henry Lee. When Jefferson arrived in Congress in June 1775, he brought a reputation for literature, and a talent for composition. In his letter to Pickering Adams explained that "Thomas Jefferson thought Adams should write the declaration as he had worked longest and hardest for independence. Jefferson proposed to Adams 'You write the draft.' Adams said, 'I will not,' Jefferson said 'You should do it.' Adams replied 'Oh! No.' Jefferson said 'Why will you not? You ought to do it.' Adams said 'I will not.' Jefferson questioned 'Why?' Adams replied 'Reasons enough.' Jefferson said 'What can be your reasons?' Exasperated, Adams declared "Reason first – you are a Virginian, and a Virginian ought to appear at the head of this business. Reason second – I am obnoxious, suspected, and unpopular. You are very much otherwise. Reason third – you can write ten times better than I can." 'Well,' said Jefferson, 'if you are decided, I will do as well as I can.' When Jefferson finished, he and Adams looked it over. Adams was "Delighted with its high tone and the flights of oratory with which it abounded, especially that concerning Negro slavery, which, though I knew his Southern brethren would never suffer to pass in Congress, I certainly never would oppose. We reported it to the committee of five. It was read and all approved it. We were in haste as Congress was impatient. Congress cut out nearly a quarter of it, as I expected they would; but they obliterated some of the best of it, and left all that was exceptionable, if anything in it was."
Monday July 1, 1776 John Adams believed would be a momentous day. Adams had risen early and wrote to a friend "This morning is assigned the greatest debate of all." John Hancock gaveled the Second Continental Congress to order at ten o'clock and they would debate for more than nine hours—into the evening. Outside the rain came down in torrents flooding the roads and lightning flashed from the darkened skies. Three weeks earlier, Richard Henry Lee of Virginia had called for a vote on the issue looming before Congress for months. "That these United Colonies are, and of a right ought to be, free and independent states, that they are absolved from all allegiance to the British Crown." Today they would vote on Lee's proposal.
John Dickinson of Pennsylvania, one of the principal authors of the Olive Branch Petition, was the first to speak. He argued that the colonies were no match for British military power, and Americans were unprepared for war. After Dickinson's speech silence filled the room–no one countered Dickson's argument. Adams hesitated and waited for someone else to speak, but finally he could wait no longer, and rose to answer Dickinson. Adams began by saying he wished had the oratorical skills of the ancient Greeks and Romans, for surely, he proclaimed, "none of them ever had before him a question of more importance to his country and to the world."
He spoke for nearly an hour when he was interrupted by the entrance of Richard Stockton, Rev. John Witherspoon, and Francis Hopkinson. The three New Jersey delegates were arriving to take their place as new members of Congress, and had been caught in the violent thunderstorm — their clothes were soaking wet. The storm had delayed them, and John Adams was concluding his speech. As they had not been present for the entire speech, Richard Stockton asked Adams to repeat what they had missed. Adams refused; he had been interrupted and was, no doubt, vexed by the appeal, saying "why should he do so? Was he an actor there to entertain? Or a gladiator, there to do battle?" At the urging of Edward Rutledge, who said "only Adams had the facts at his command." Richard Stockton repeated his request for Adams to make the case for independence once more.
Adams then rose and delivered an impassioned oration that kindled embers in the hearts of many men present. "I summed up the reasons, objections, and answers in as concise a manner as I could," Adams would later recall. Again, Adams spoke for nearly an hour and according to Jefferson, Adams spoke "with a power of thought and expression that moved us from our seats." Joseph Hewes of North Carolina, who earlier had opposed separation from Britain, started suddenly upright, and lifting both his hands to Heaven, as if he had been in a trance, cried out, "It is done! And I will abide by it."
Richard Stockton was silent during Adams' speech, listening with thoughtful and respectful attention to the arguments that were offered by supporters and opponents of the declaration under consideration. After hearing the irresistible and conclusive arguments of the honorable John Adams for independence, Stockton fully concurred in the final vote in favor of that bold and decisive measure. Stockton then gave a short but energetic speech at the close of the debate. Richard Stockton later declared Adams "the Atlas of the hour, the man to whom the country is most indebted for the great measure of independency. He who sustained the debate, and by the force of reasoning demonstrated not only the justice, but the expediency of the measure."
After the passage of the Declaration of Independence on July 2, John Adams wrote to his wife Abigail: "The second day of July 1776 will be the most memorable epoch in the history of America. I am apt to believe that it will be celebrated by succeeding generations as the great anniversary festival. It ought to be commemorated as the Day of Deliverance by solemn acts of devotion to God Almighty. It ought to be solemnized with pomp and parade, with shows, games, sports, guns, bells bonfires, and illumination from one end of this country to the other from this time forward forever more. You will think me transported with enthusiasm, but I am not. I am aware of the toil and blood and treasure that it will cost us to maintain this Declaration and support and defend these states, yet through all the gloom I can see the ravishing light and glory. I can see the end is worth more than all the means, and that posterity will triumph in this day's transactions, even although we shall rue it, which I trust to God we shall not."
On August 2, 1776, Adams signed the Declaration of Independence with fifty other signers in attendance and remained in Congress until November 1777, when he retired from Congress—never to return. He went home to Braintree to resume his law practice. In 1778, Congress appointed him to a diplomatic post in France and Adams sailed with his ten-year-old son John Quincy. Adams, Franklin, and John Jay signed the Treaty of Paris in 1783 ending the Revolutionary war, a few days later Adams fell ill with fever. To regain his health, he visited England. There while attending a meeting of Parliament, he had the satisfaction of hearing King George III announce Britain's recognition of American Independence. Returning to Paris in 1784, Adams was joined by Abigail and the entire family. In 1785, Adams was appointed America's first minister to Great Britain and remained there until 1788.
Returning to America in 1788, Adams was elected as the first Vice President in 1789, a job he characterized as "the most insignificant office that ever the invention of man contrived or his imagination conceived." He was reelected to the Vice Presidency in 1792. In 1796, John Adams was elected to the Presidency with only three electoral votes more than Thomas Jefferson, who became his Vice President. During his stormy but statesmanlike Presidency, Adams pursued a neutral course without abandoning his principles. He kept the United States out of a declared war with France and achieved an amicable peace. Adams advocated strong military preparedness and under his urging, the Department of the Navy was established and the Constitution (Old Ironsides) was constructed.
In the election of 1800, Adams lost to Jefferson by eight electoral votes. They had been friends but because of the election became estranged. Benjamin Rush corresponded with both men and eventually brought the two old friends back together. Christmas Day 1812, Rush wrote "permit me again to suggest to you to receive the olive branch offered to you by the hand of a man who still loves you." On New Year's Day 1812, Adams took Rush's advice, wrote a letter to Jefferson and they corresponded for the rest of their lives.
Upon hearing of Benjamin Rush's death in 1813, Adams wrote "I know of no character living or dead who had done more really good for his country." To Rush's widow he wrote "there was no one outside my own family whose friendship was so essential to my happiness." The loss of such a friend, Abigail said to her daughter was a "heavy stroke to your father."
Adams was described by his nineteen-year-old grandson Charles Adams, as "scarcely exceeding middle height, but of a stout, well-knit frame, denoting vigor, and long life, yet as he grew old, inclining more and more to corpulence. His head was large and round, with a wide forehead and expanded brow." Adams lived in retirement for twenty-five years writing and observing the political career of his son, John Quincy.
In 1818, Abigail, his wife of fifty-four years, died. In 1825 Adams was overjoyed to see his son, John Quincy Adams become the sixth President of the United States. In old age Adams health declined but he remained clear of mind. A few days before Adams death, the orator who was to speak at the Fourth of July banquet celebrating the fiftieth anniversary of the Declaration of Independence, asked him what toast should be proposed and Adams replied, "Independence Forever!"
On July 4, 1826, Adams lay on his deathbed, outside a thunderstorm raged. It reminded Adams of the storm that raged fifty years before, when he gave his impassioned speech for Independence in Congress July 1, 1776. Adams lay peacefully, his mind still clear as he stirred and whispered clearly "Thomas Jefferson still survives." Those present declared "there was a final clap of thunder that shook the house; the rain stopped and the last sun of the day broke through dark, low hanging clouds—busting forth …with uncommon splendor at the moment of his exit…with sky beautiful and grand beyond description." Remarkably, Jefferson had died on the same day, a few hours before Adams. The two patriots died on the fiftieth anniversary of the adoption of the Declaration of Independence. The remains of John and Abigail Adams are interred in a basement crypt at the United Parish Church in Quincy, Massachusetts.
A thirty-one-inch bust of President John Adams is displayed in the Senate Chamber Gallery of the United States Capitol Building.
In Washington, D.C., near the Washington Monument, is a memorial park to the signers, with 56 blocks of granite, each one engraved with the name of one of the signers.
In the Rotunda of the U.S. Capitol is the famous painting by John Trumbull entitled "The Declaration of Independence." John Adams is standing at the table in the center of the painting, the first figure on the left with his hand on his hip.
Kathryn Glynn 2008
---
Sources:
Barthelmas, Della Gray. The Signers of the Declaration of Independence. 1997
Ferris, Robert G. & Richard E. Morris. Signers of the Declaration. National Park Service. 1973
Glynn, John C. & Kathryn Glynn. His Sacred Honor Judge Richard Stockton. 2006
Gragg, Rod. The Declaration of Independence. Rutledge Hill Press. 2005
McCullough, David. John Adams. Simon and Schuster, 2001
Sanderson, John. Biography of the Signers of the Declaration of Independence. 1823
Whitney, David C. Founders of Freedom in America. Ferguson Publishing Co. 1974