Title:
Portraits of signers of the Declaration of Independence
Call Number:
MSS 12130
Citation:
Robert Edge Pine. Copies of Pine's Portraits of Signers of the Declaration of Independence,1820, Accession #12130, Albert and Shirley Small Special Collections Library, University of Virginia, Charlottesville, Va.
This photo has been identified as being free of known restrictions under copyright law, including all related and neighboring rights.
---
Spouse Information:

Elizabeth Checkley
Elizabeth Wells
(1722 - 1803)
Samuel Adams
---
Of the men who signed the Declaration of Independence, few exercised a more powerful influence than Samuel Adams. Samuel Adams was born at Quincy, Massachusetts, September 22, 1722. He descends from pilgrim ancestors John and Margaret Thurston who arrived in 1637, and Henry and Honor Rolfe of Wiltshire, England. His father, Samuel was a man of considerable wealth, a brewer and member of the Massachusetts Assembly. Samuel Adams was the eldest son of twelve children born to Samuel and Mary Fifield Adams.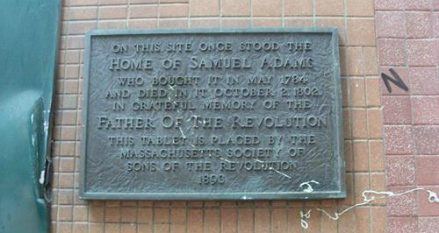 Samuel Adams was of medium height, a muscular build, gray eyes, genial manner, steadfast and warm in friendship. Adams was a devout Puritan, and was first married in 1749 to Elizabeth Checkley who died in 1757 with whom he had a son and a daughter. He married Elizabeth Wells, his second wife in 1764.
In 1736, he began his time at Harvard University, receiving a degree of Master of Arts in 1743, writing for his thesis, "Whether It be lawful to resist the Supreme Magistrate, if the Commonwealth cannot be otherwise preserved." After graduation, he began the study of law then apprenticed with a local merchant for a short time. Adams opened his own business but it failed. On the death of his parents in 1749 he inherited a fine home and brewery. All his business ventures eventually failed and he lost his entire inheritance. He nearly lost his home several times but through the generosity of family and friends was able to keep it.  John Adams, his second cousin called him "a universal good character, unless it should be admitted that he is too attentive to the public, and not enough to himself and his family."
The genius of Adams was politics. From his earliest years he felt its inspiration. It occupied his thoughts, enlivened his conversation, and employed his pen. In 1763 the British ministry proposed to "tax the colonies, for the purpose of raising revenue, to be placed at the disposal of the crown." The colonies were alarmed and in Massachusetts, a committee was appointed.  One of five delegates, Samuel Adams wrote the first recorded public document that denied the supremacy of the British parliament and their right to tax the colonies without their own consent and a direct suggestion of the necessity of a united effort on the part of all the provinces. Adams wrote: "If our trade may be taxed, why not our lands? Why not the produce of our lands, and everything we possess, or use? This we conceive annihilates our charter-rights to govern and tax ourselves. It strikes at our British privileges, which, as we have never forfeited, we hold in common with our fellow subjects, who are natives of Britain. If taxes are laid upon us in any shape, without our having a legal representation, where they are laid, we are reduced from the character of free subjects, to the state of tributary slaves. We, therefore, earnestly recommend it to you, to use your utmost endeavors to obtain, from the general court, all necessary advice and instruction to our agent, at this most critical Juncture…We also desire you to use your endeavors that the other colonies, having the same interests and rights with us, may add their weight to that of this province; that by united application of all who are aggrieved, all may obtain redress."
As a clerk in the colonial legislature (1765-74), he drafted most of the body's official papers and quickly seized the tools of power. He pounced on the taxation issue raised by the Sugar and Stamp Acts (1764-65), and within a year he and his party gained control of the legislature. In 1770, Adams' followers called themselves the Boston Sons of Liberty.
In 1770, the Boston Massacre became the first bloodshed between the British and the colonies. The next morning a meeting of the citizens of Boston was called and Samuel Adams rose and addressed the multitude. A committee was chosen to call on Governor Hutchinson, with a request that the troops be immediately removed from the town. The governor replied "the troops were not subject to his order." Adams strongly advised the governor of the danger of retaining the troops in the capital and the governor wisely consented to remove the troops.
Several of Adams' articles were published in the Boston Gazette and he was the author of several plans for opposing the unjust designs of the mother country. Adams' financial difficulties were known in England and the ministry proposed to bribe him, by the gift of some lucrative office. A suggestion of this kind was made to royal Governor Hutchinson, to which he replied "Such is the obstinacy and inflexible disposition of the man, that he never can be conciliated by any office or gift whatever." The offer was made to Adams, but neither fortune nor power could tempt him to abandon the cause of truth, or the liberties of the people.
In May 1773, Lord North's Tea Act was passed by Parliament. On November 5, a committee of the Sons of Liberty met and Adams declared "anyone who aided in landing or selling tea to be an enemy of America." On November 28 a ship arrived with tea on board. The next day a meeting was held and Adams declared "the tea shall be returned to the place from which it came." On December 16, seven thousand people attended a meeting from ten in the morning until six at night filling a church and the Boston Common. A messenger arrived with the refusal of Governor Hutchinson to send the tea back to England. That night fifty men dressed as Mohawk Indians went to the wharf and threw the cargo of tea into the harbor. As a result, King George and Parliament retaliated by closing the Boston Port in March 1774. Six weeks later the Boston Committee recommended that all the colonies suspend trade with England.
During the Massachusetts General Court in July 1774, Samuel Adams moved to appoint delegates to a Continental Congress "to deliberate and determine upon all measures" and Adams was chosen one of five delegates.
In 1774, Governor Gage sent Colonel Fenton to warn Adams that he had incurred the royal displeasure, and it was in the power of the governor to send him to England for trial, on a charge of treason. It was suggested that a change in his political conduct, might save him from this disgrace, and from a more severe fate; and might elevate him, from his circumstances of poverty, to the enjoyment of affluence. To this proposal, Adams replied; "Go tell Governor Gage, that my peace has long since been made with the King of kings, and the advice of Samuel Adams is to no longer insult the feelings of an already exasperated people." Governor Gage then issued a proclamation: "I do hereby in his majesty's name, offer and promise his most gracious pardon to all persons, who shall forthwith lay down their arms, and return to the duties of peaceable subjects: excepting only from the benefits of such pardon, Samuel Adams, and John Hancock whose offenses are of too flagitious a nature to admit of any other consideration but that of condign punishment."
Samuel Adams and John Hancock were being watched by the British and British General Gage hoped to capture both on the night of April 18, 1775. They were both staying at the home of Reverend Jonas Clark in Lexington when Paul Revere rode to warn them of the British approach to Lexington. Adams and Hancock quickly escaped into the darkness, the British arrived at dawn and the Battle of Lexington began.
Outfitted in new clothes supplied by his friends Samuel Adams was a member of the first Continental Congress that assembled in Philadelphia on the 5th of September, 1774, and remained a member of Congress until 1781. He was a strong advocate for the declaration of American independence. In his view, the die was cast, and a friendly connection with the mother country was impossible. Adams wrote in April 1776, "I am perfectly satisfied of the necessity of a public and explicit declaration of independence. I cannot conceive what good reason can be assigned against it. Will it widen the breach? This would be a strange question, after we have raised armies, and fought battles with the British troops; set up an American navy; permitted the inhabitants of these colonies to fit out armed vessels, to capture the ships, &c. belonging to any of the inhabitants of Great Britain; declaring them the enemies of the United Colonies; and torn into shivers their acts of trade, by allowing commerce, subject to regulations to be made by ourselves, with the people of all countries, except such as are subject to the British king. It cannot after this be imagined that we consider ourselves, or mean to be considered by others, in any other state, than that of independence."
Samuel Adams voted in favor of independence on July 2, 1776 and signed the engrossed copy of the Declaration of Independence on August 2, 1776 along with fifty others. On the eve of the signing Adams was said to have made a notable speech to Congress. Adams and Richard Henry Lee became good friends.
In 1777, the situation of the colonies was extremely gloomy and congress reduced to only twenty-eight members. Great anxiety was expressed as to the war "The chance is desperate" someone remarked "Indeed, indeed, it is desperate," said Adams, "if this be our language. If we wear long faces, others will do so too; if we despair, let us not expect that others will hope; or that they will persevere in a contest, from which their leaders shrink. But let not such feelings, let not such language, be ours." According to Joseph Galloway (a member of Congress turned Tory who escaped to England) in his Political reflections of the American Rebellion published 1780 in England "Samuel Adams eats little, drinks little, sleeps little, thinks much, and is most indefatigable in the pursuit of his object. It was this man, who by his superior application managed at once the factions in congress at Philadelphia, and the factions of New England."
Adams served on several important committees in Congress, notably the one that drafted the Articles of Confederation which he signed on November 15, 1777. He was a member of the Convention to form a Constitution for Massachusetts in 1779-80, and was on the committee that drafted it.   In 1781 Adams retired from congress but not from public life. He returned to Boston and entered the State senate in 1781-88 over which he presided.  He was a delegate to the convention called in 1788 to ratify the federal Constitution.  In 1789 he was elected lieutenant governor, and held that office till 1794; on the death of John Hancock, he was chosen governor and annually reelected till 1797 when he retired from public office.
Samuel Adams died on October 2, 1803 at the age of 82. He was poor while he lived, and had not the death of his only son relieved his poverty, Samuel Adams notwithstanding his virtues, patriotism, zeal, and usefulness while he lived, would have been buried at public expense.  He was buried in the Old Granary Burying Ground near the site of the Boston Massacre.  A bronze metal plate stating "This marks the grave of Samuel Adams" is mounted on a boulder near Tremont Street.  In 1873, the state of Massachusetts honored him by placing his bronze statue in Statuary Hall, in the Capitol Building, Washington, D.C.  Adams is one of only six signers so honored.
Kathryn Glynn 2008
---
Sources:
Barthelmas, Della Gray. , The Signers of the Declaration of Independence.  1997
Goodrich, Charles A., Lives of the Signers to the Declaration of Independence. 1856.
Sanderson, John.  Biography of the Signers of the Declaration of Independence.  1828